Recent attention to the dearth of women in US clinical trials has revealed a startling problem in the medical world: Women make up less than a quarter (paywall) of participants in research trials related to heart disease in the US. As a result, most of what we know about heart disease is about men. Adding to ongoing efforts by the American Heart Association, the US National Institutes of Health has set aside $10 million in grants to tackle the problem with more women-specific research and public awareness.
Recent studies have revealed that heart attacks are on the rise in women, and yet just 8% of women said they knew cardiovascular disease, not breast cancer, is the leading cause of death in women, killing 1 in 4 in the US.  In fact, women who experience heart attacks are more likely to die within a year, compared to men.
The classic "Hollywood" heart attack (paywall), involving crushing or squeezing chest pain, difficulty breathing, and sudden collapse, is often perceived to be the norm. But the truth is, the symptoms women experience are quite different. Instead of sharp chest pain, women are more likely to feel tired and short of breath, and experience pain in the neck, jaw, throat or back. Seventy-one percent of women experience extreme weakness, which often feels like the flu.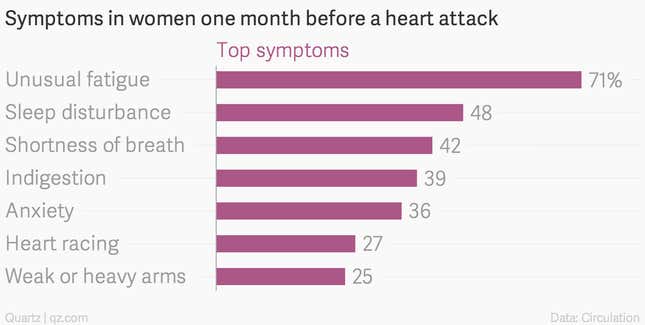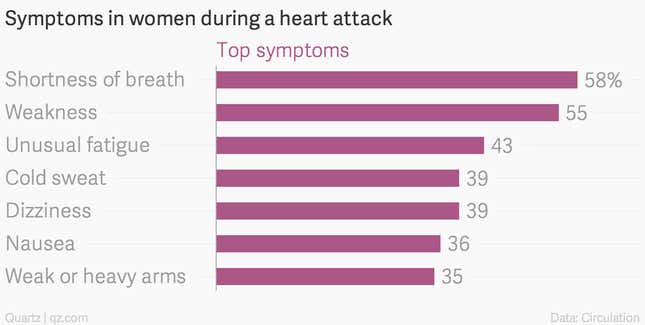 For men, doctors say the three most commonly reported symptoms during a heart attack are chest pain, chest discomfort, and chest pressure.
What's behind these gender differences is only beginning to surface with the increase in women-specific research on heart disease. The size of women's arteries, diabetes, smoking, menopause, and blood pressure, have all been explored as possible risk factors.