HONG KONG—Relations between Hong Kong's police force and the tens of thousands of pro-democracy protestors holding parts of the city hostage are getting a little better. Two demonstrators were photographed last night using their umbrellas to shelter officers from the rain, a stark contrast to images of police firing tear gas at demonstrators a few nights before.
On Facebook, one user wrote, "There's no need to brand all police officers as cold blooded murderous animals. We should be fair and calm. Many police have consciences."
Public anger at authorities for firing tear gas at unarmed protesters, many of them secondary students, helped escalate the so-called "umbrella revolution" that is now in its fourth day. Now, police and protesters alike are treating each other a bit more kindly.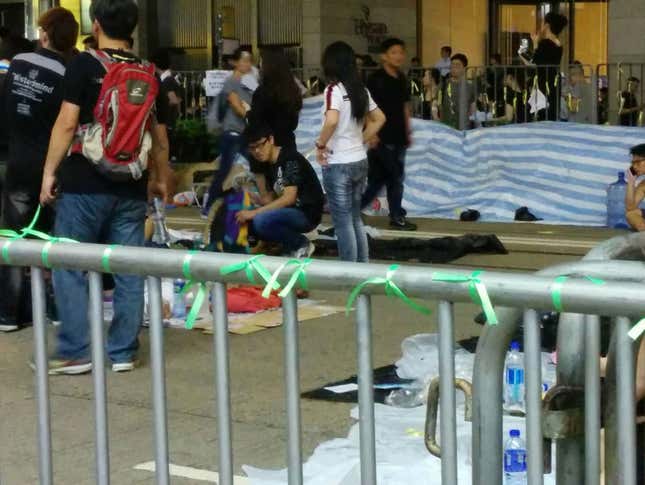 Activists have started tying green ribbons around the city to symbolize the coming together of blue (the police), and yellow (the demonstrators). In yesterday's midday heat, protesters in central Hong Kong were seen offering police cooling gel pads. Local residents have also posted photos of police and protesters chatting civilly.
Another photo has circulated showing a policeman helping a protester wash his eyes out after being pepper sprayed. Since Sunday, police have kept their distance from the demonstrators, staying only on the outskirts of the roads the protesters have occupied.
It may be that some police privately agree with the protesters' cause. Earlier this week, a police officer stepped out of a police van to speak to demonstrators in central Hong Kong. "We are also Hong Kong people. We also have family…and things we wish to say but can't. But we have responsibilities as police. We hope we can mutually respect each other," he told them.  The protesters yelled and clapped approvingly.