Why is the US falling behind on its promises to destroy old nuclear weapons? Here's one reason given to government auditors (pdf):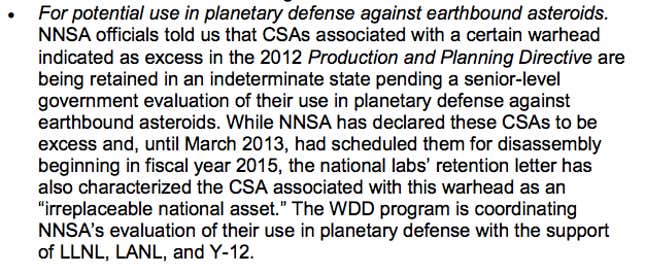 That's right, the US isn't dismantling its old nuclear weapons, because we might need them to destroy an asteroid hurtling toward earth. To clarify some of the bureaucratic language above, NNSA is the "National Nuclear Security Administration"; CSAs are "canned subassemblies" that contain highly enriched uranium for use in nuclear weapons. And senior-level government evaluation means there is contingency planning going on around what to do in the event of an asteroid heading toward earth.
The Wall Street Journal, which first reported this item, notes that scientists aren't necessarily concerned about a massive, planetary-extinction level asteroid more than kilometer in diameter, like the one scientists believe led to the extinction of dinosaurs—at least for the next hundred years or so.
But since an asteroid just 20 meters in diameter crashed in Chelyabinsk, Russia, last year, injuring over a thousand people, scientists are increasingly concerned about the threat presented by smaller asteroids and are working on ways to track and combat them. Some scientists think that if such an asteroid were heading for earth, a nuclear blast in space could be the best way to break avert the threat.
Asteroids are also attracting the attention of the private sector: Planetary Resources, a US firm backed by prominent tech investors including Google's Larry Page and Eric Schmidt, is designing technology to harvest resources from asteroids. That work could lead to less explosive ways to deal with small asteroids by capturing and moving them, but successful deployment is many years away at best.
In the event that a nuclear weapon is needed for planetary defense, it remains unclear whether a rag-tag band of oilmen will be needed to deploy it.