HONG KONG—So far in the Hong Kong protests, the territory's chief executive, CY Leung, has seemed inept at best. But in his press conference just a half hour before the deadline student leaders gave him to resign, he somehow found his inner Machiavelli.
Student leaders said on Oct. 1 that unless he resigned by midnight the next day, they would escalate protests and surround his residence. "If you don't respond to the demand of the Hong Kong people, we will paralyze the government," said Alex Chow (paywall), head of the Hong Kong Federation of Students.
Protesters crowded Tim Wa Ave., a small alley in between the People's Liberation Army headquarters and Leung's office. Many of them had been waiting, crammed in, for hours. When at last Leung's speech was broadcast over a megaphone, the crowd hushed each other to listen.
Not that there was a lot to hear. The much-maligned Leung refused to step down, and ordered protesters not to try to occupy government buildings.
But Leung also offered the protesters a strategic olive branch. The chief executive announced that Carrie Lam, his second-in-command, would meet with HKFS leaders, though he didn't specify when or whether the meeting would be public.
The problem for the protesters is that this movement is highly fragmented—run by a slew of different groups, each with distinctive personalities and priorities guiding them. What appeases one group risks outraging another—which might be the whole point, for Leung.
Leung and Lam's offer was extended only to HKFS' leaders. HKFS is likely to encourage protesters to de-escalate for a time considering that, just yesterday, Lester Shum, deputy head of HKFS, said that students might be willing to discuss their demands with Lam.
But how will this sit with the other student group, Scholarism? Though mostly similar, Scholarism's demands differ slightly from HKFS's. And Occupy Central with Love and Peace (OCLP), a group made up mostly of non-students, has similar but slightly different demands of its own.
Leung's approach may be an example of the "divide and conquer" tactic: favoring HKFS to marginalize Scholarism and, to a lesser extent, OCLP. HKFS has said that Lam has indicated its meeting with her "may not be in public," bolstering that theory.
The question, then, is whether the three groups' leaders will remain united and keep their respective followers calm while negotiations begin.
And the crowds sure didn't seem that pleased. Leung's speech elicited loud booing from protestors, and one chant that rose after the speech accused Leung of leading them "around the garden," indicating that his offer was intended to mislead them and waste their time. "I think what he said is totally useless," 17-year-old Chan Yin-man told Quartz.
"We don't accept this result," said Harry Chan, 26, a teacher. "We hoped for a reversal on universal suffrage [reform]—not just a meeting."
So far, group leaders seem to be keeping the front united—and peaceful. In a speech given shortly after Leung's wrapped up, Scholarism leader Joshua Wong urged his audience to abide by the law, reports NBC News' Ed Flanagan.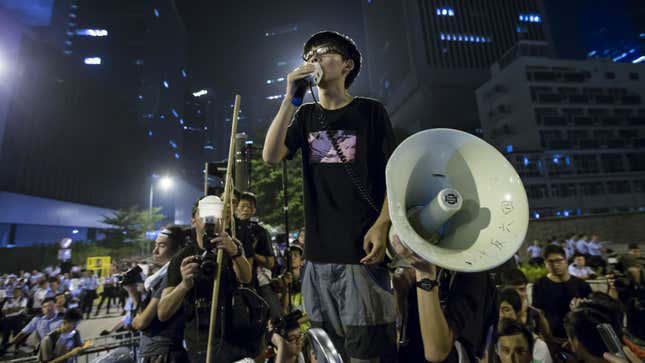 "I hope that scrapping the functional constituencies, holding fast to civil nomination, and interrogating Lam until she's completely wiped out—that's the goal of the meeting," said Wong, via Scholarism's Facebook page. "And that in the future, academic comrades-in-arms and everyone else can maneuver together."
Whether HKFS' meeting with Lam—assuming it takes place—would be enough to mollify fatigued and angry protestors, though, is the next question. Many were still infuriated hours after the chief executive's speech.
"[Leung] just repeats and repeats the same things," said Louis Yim, a 21-year-old student at Hang Seng Management College. "We are so angry."
Based on Quartz's conversations with various protesters, a growing division had emerged between those that want to escalate by occupying another main road and those that are worried about disrupting the daily lives of Hong Kong citizens and provoking clashes with police.
Like many milling around the streets, 18-year-old Ken Li didn't seem inclined to leave. "I'll stay here," he said, when asked what he was planning to do for the rest of the night. Scores of demonstrators began sitting in protest, while others spilled out onto the major throughway linking Hong Kong Island and Kowloon, on the mainland, blocking traffic. Others sat down in front of the barricade and rows of police guarding Leung's office to signal their intention to stay.

Though this disappointment pervaded the crowd, the majority of protesters were determined to limit police provocation. Many yelled "calm down"and "come back" at protesters that went out into the street, while others linked arms and held hands to form a human chain and block more people from taking over the road.
However, there were enough "rogue" protestors that at time of publishing, streets that were supposed to be cleared remain blocked. If this resistance escalates into an attempt to take over government buildings, as threatened, things could get worse. The police have warned of the "serious consequences" that await if they do.