North America's sports industry is expected to generate more than $60 billion in revenue this year, but its biggest income stream is also one of its slowest growing.
This is one of the conclusions to be drawn from PwC's 2014 Sports Outlook, which was published earlier this morning.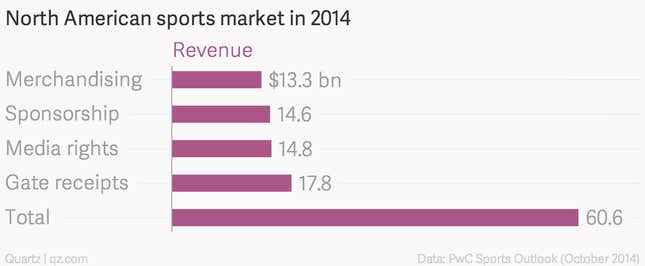 Surprisingly, the single biggest source of revenue for America's big sporting leagues (the National Football League, Major League Baseball, the National Basketball Association, Major League Soccer, and the major collegiate programs) remains gate receipts, or ticket sales.
But unsurprisingly, revenue from big broadcast deals with TV companies (aka "media rights") is growing much faster. Television is currently in a state of upheaval and sports remain one of the few things people watch live. As a result, broadcasters and pay TV companies pay handsomely for the rights to show them.

In 2009, gate revenue ($15.8 billion) was nearly double media rights revenue ($8.8 billion). But by 2018, PwC expects them to be almost equal ($19.7 billion and $19. 3 billion respectively).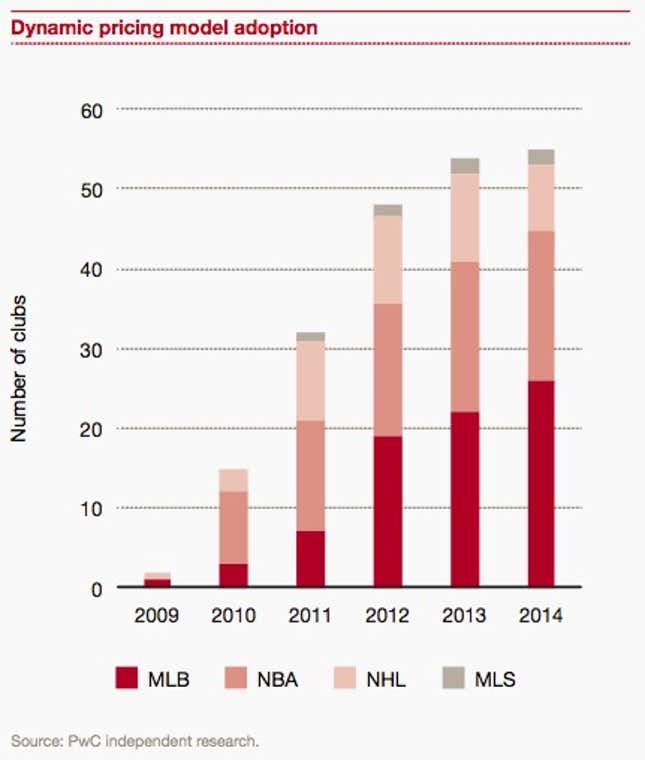 Like any good business, the big sports leagues are acting to protect their most lucrative source of income. They are offering more premium seats, for which they can charge more, and which can range from luxurious private suites, to seats closer to the action with exclusive access.
Premium seating now accounts for 15% of seat inventory across the professional leagues, PwC found, and up to 40% of a club's seat-related revenues.
Clubs have increasingly adopted dynamic pricing models, in which ticket prices fluctuate with demand (think airlines, or Uber's controversial surge pricing policy), to better manage seat inventory.
Facility-building is also in vogue with more than $55 billion spent on upgrading stadiums across the professional sports leagues and major college programs over the past 20 years, according to PwC.
There is a growing backlog of "middle aged" stadiums, in the 15 to 24-year-old age bracket, that need to be updated soon to continue enticing people to attend games rather than watch them on-screen.