The Waldorf Astoria hotel in New York City is iconic for its storied history, famous guests, and secret underground train platform. But in simpler terms, it's a big building with a blue-chip address in a coveted real estate market.
That's why the deal struck between Hilton Worldwide Holdings and Beijing-based Anbang Insurance Group for $1.95 billion makes sense. Insurance companies need to pay in good times and bad, so they're always looking for investments that will deliver a high return in the long run. That's why real estate is a favored asset class, especially in markets like New York have long-term value, Susan Wachter, professor of real estate and finance at the Wharton School of Business at the University of Pennsylvania, tells Quartz.
Chinese insurers have more than $14 billion available for overseas real estate investment, according to a study by global property advisor CBRE, with the US, UK, Canada, Singapore, Hong Kong, and Australia among the favored markets. Chinese regulations enacted in 2012 allow them to invest up to 15% of their assets in so-called "non-self-use" real estate, resulting in deals like Ping An's $388 million purchase of the Lloyd's of London building in 2013, and China Life's $1.35 billion acquisition of purchase of a tower along London's Canary Wharf in June.
Hilton, which will continue to operate the hotel for the next 100 years, plans to use proceeds from the sale to buy more hotels in the US.
The current Waldorf Astoria opened in 1931, and was one of many new buildings of the era financed by bonds (paywall). Hotelier Conrad Hilton began buying up the Depression-ravaged debt in 1942 and eventually took control of the property, which he described as "the greatest of them all." (An earlier iteration of the hotel, rooted in two separate but adjacent hotels started by competing members of the Astor family in the 1890s, used to sit on the current site of the Empire State Building.)
The enormous size of the current hotel, which takes up a full city block in Midtown Manhattan, has been hindering Hilton's ability to charge luxury-level rates, Nikhil Bhalla, an analyst at FBR & Co. in Arlington, Virginia, told Crain's New York Business earlier this year. The hotel is now expected to undergo a major renovation. Hersh says he can see the argument for making the property, the flagship of Hilton's luxury brand, more modern and up to date: "I think that is one of the incentives to raise capital, to rehabilitate."
Manhattan is one of the top five (pdf, page 3) hotel investment markets in the world, and the most active market in the US, with $1.8 billion in hotel investment transaction volume in 2013, according to Jones Lang LaSalle.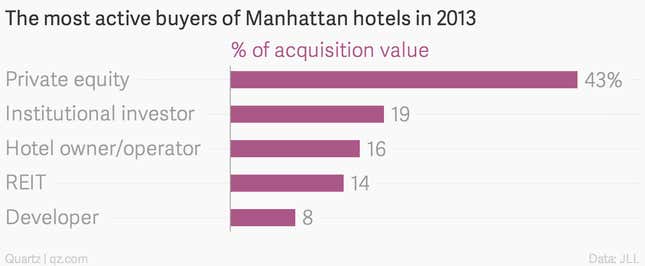 The sale of the Waldorf Astoria to a Chinese buyer, while somewhat symbolic, is likely produce feelings in the US similar to the stirred reaction of the controlling interest that Japanese investors took in New York's Rockefeller Center in 1989. "It certainly indicates where the world is," says Hersh. Hotels are brands, "and this one in particular is so prominent and international."