The numbers: The world's top seller of smartphones said today that it expects profits in the third quarter to drop 60% to about 4.1 trillion won ($3.8 billion) from a year earlier while sales are expected to plunge roughly 20% over the same period. The falloff marks the South Korean company's fifth consecutive decline in sales and what is estimated to be its largest decline in quarterly profit in five years.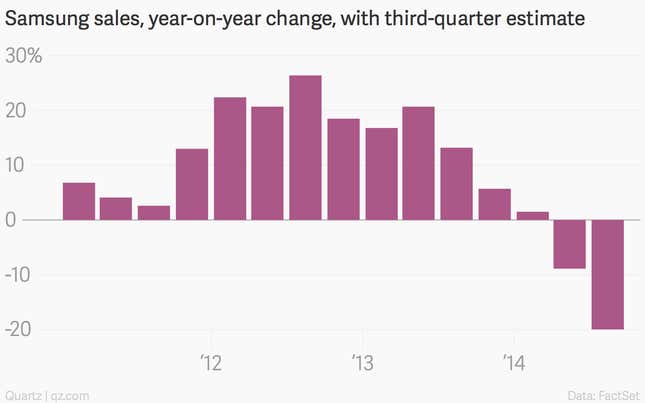 The takeaway: Samsung's profits are getting smaller as Apple's iPhone gets bigger. In September Apple introduced new iPhone models with displays that rival the size of Samsung's Galaxy. Then again, Samsung is being squeezed from all sides as hardware makers like Xiaomi and Lenovo sell more lower-cost devices in China, the world's largest market for smartphones. All that competition is forcing Samsung to lower prices and spend more on marketing.
What's interesting: Samsung's headaches look likely to endure. Though the company is expected to start selling its Galaxy Note 4, a smartphone with a 5.7 inch display, in China on October 10, Chinese consumers already have placed nearly five million pre-orders for the iPhone 6 and 5.5 million for the iPhone 6 Plus. Both models are expected to be available in the country starting October 17. Meanwhile, the Apple Watch, which is slated for sale early next year, will compete with Samsung's Gear Live for the world's wrists. One silver lining for Samsung may be that all those smartphones need semiconductors. On Monday the company said it will invest nearly $15 billion in a new factory to make chips for mobile devices. Samsung supplies about 40% of the chips that run the latest generation of iPhones.