The numbers: Good. The aluminum giant reported net income of $149 million for the third quarter, up from $24 million from the same period a year earlier. Revenue rose to $6.2 billion, an increase of 8% from a year ago.
The takeaway: Aluminum prices are up. Alcoa's results reflect rising prices for the metal, which rose about 19% throughout the three months ended August 30, to about $2,100 a ton. The company is also benefitting from demand for lightweight metals among makers of aircraft and automobiles. In June, Alcoa agreed to buy Firth Rixson, a maker of components for jet engines, for $2.9 billion. In July, Alcoa inked a deal to supply $1.1 billion worth of aluminum over the next decade to Pratt & Whitney for use in jet engine components. Last month, Alcoa made a similar pact to supply aluminum sheet and plate products to Boeing.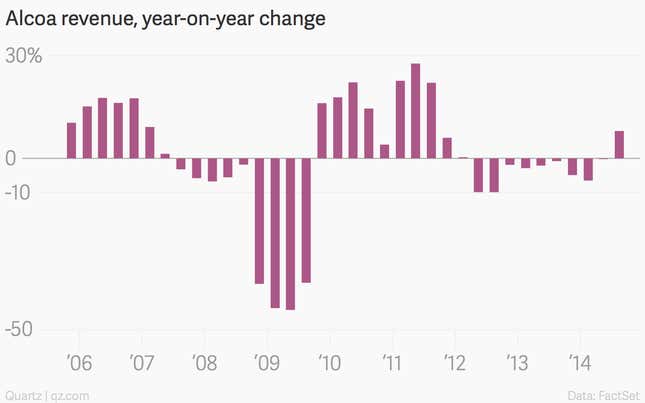 What's interesting: By setting its sights on selling the lightweight layers that envelop the latest generation of planes and automobiles, including the Ford F-150 pickup, which is due in showrooms later this year, Alcoa is hedging its bets on a Chinese economy that looks increasingly sluggish. (In recent years, the company had boosted sales by selling aluminum to manufacturers in China's transportation, construction and beverage industries.) Still, Alcoa and other metal makers cannot unhitch their fortunes completely from China, which is among the top producers of aluminum worldwide. Though most of the metal made in China stays in China, in July the country shipped 14% more aluminum to the rest of the world than it had a year earlier. And that exported supply is keeping downward pressure on prices for the metal, despite industry efforts to cut down production.