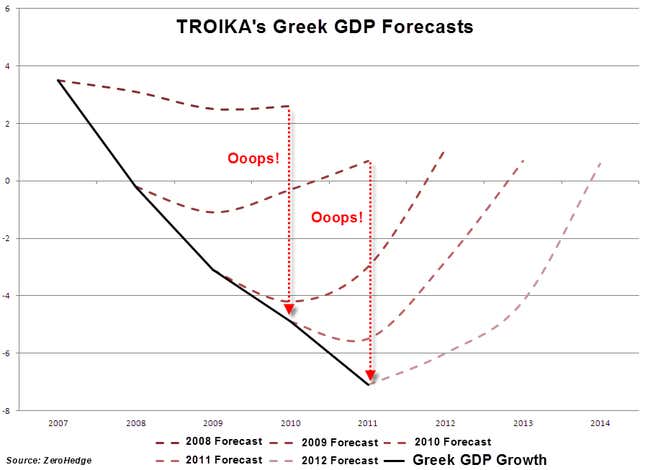 Greece is in turmoil, yet again, as it begs for the disbursement of yet another tranche of aid money from European leaders in order to avoid a disastrous default later this month. Though the country has passed another round of spending cuts, the so-called "troika" of lenders—the EU, the European Central Bank, and the International Monetary Fund—still have not made a final decision about delivering the €31.5 billion ($40.1 billion) in aid they've pledged to keep the country afloat.
And as they flounder about for a method for disbursing the aid "in the most efficient way possible," we think we have one reason—courtesy of the folks at ZeroHedge, who made the chart above—why their numbers aren't adding up. Their projections for Greece's ability to stage an economic recovery under the weight of crushing debt obligations and severe austerity have been deeply unrealistic. A government cannot expect to bring in the same tax revenues when it cuts spending, because initially GDP will sink. And if make more cuts, year after year, you'll just compound those losses. And if recent protests are any indication, these policies are not buying European leaders any friends in Athens.
More and more austerity without a resolution of the uncertainties inhibiting growth brings deep recession. If Greece is any indication, then attacks on other countries like Spain, Italy, and Portugal to get their finances in order through new, harsher rounds of austerity are doomed to result in protracted economic deterioration, and even social and political upheaval.