Updated at 5:15pm in Hong Kong
HONG KONG—The crowds at Hong Kong's pro-democracy protests, now in their third week, were severely depleted today after many participants returned to work and school. That made it easy for a group of hundreds of Anti-Occupy protesters and dozens of masked men, who arrived at the main protest site in the early afternoon, tore down barricades, trashed supply tents, and sometimes physically attacked students on the scene.
First, Anti-Occupy protesters gathered around the main protest site in the center of the city, chanting slogans at demonstrators including "Hong Kongers hate you all."
Then they were joined by dozens of men wearing surgical masks, who declined to identify themselves to journalists. The men destroyed medical-supply stations and tore down tents. Together the groups surrounded police and started pushing barricades:
One man came armed with metal shears:
Behind the Anti-occupy group was a line of about a dozen taxis who were honking to get through.
And a crane-mounted truck, with no official markings, that started destroying barricades:
In some cases, the men with masks forcibly pulled protesters from the barricades they were protecting: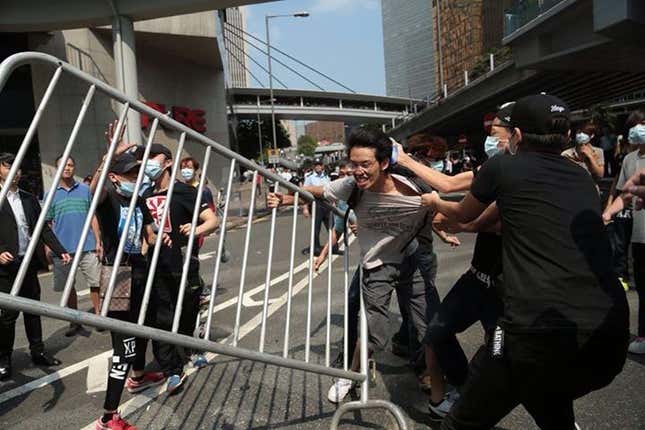 And confronted them physically:
Queensway, where most of the altercations took place, is parallel to the street where protesters are concentrated, and had just a few tents on it this morning. But the attacks drew hundreds of pro-democracy protesters.
Criticism for the police
Police seemed barely able to control the situation.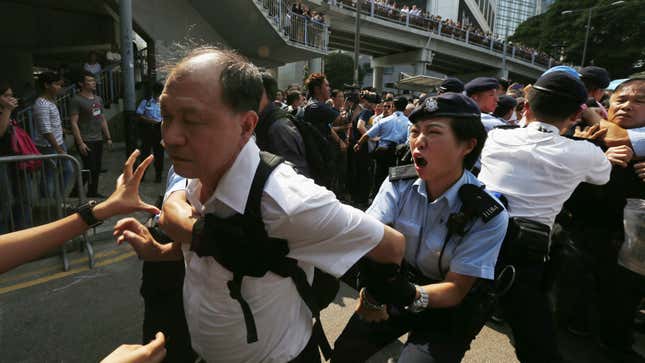 Police were also quickly blamed for exacerbating the situation. Early this morning, dozens of police, some carrying small riot shields and what appeared to be pepper spray, descended on two of the movement's remaining protest sites. They removed metal barricades that protesters had strung together to protect their occupied territory on busy commercial streets that activists have pledged block until their demands for free elections are met.
Some protesters believe the police removed the barricades to make it easier for groups opposing the Occupy Central movement. The aim, according to Elizabeth Wong, a protester in Admiralty, is to, "provoke infighting and exhaust protesters."
Questions about gangsters and weapons
At just before 2pm in Hong Kong, Wong told Quartz, there were over 100 people "thought to be gangsters" who were destroying protesters tents on Queensway, a main avenue that runs through central Hong Kong.
After the attacks, "the police didn't arrest [the attacking group]," said Sandy Tang, a 30-year-old protester who said she saw masked men attack Occupy Central protesters. Instead, "they  just told us to get back." Tang echoed the opinion of many when she said she thought the men were gangsters, but said she will stay at the protest site. "After the violence I must stay. The police didn't help us, so we must help ourselves."

Today's attack was similar to one a week ago in Mong Kok, in which a gang of men attacked a pro-democracy protest site, destroying medical supplies and electrical equipment. Of the 19 people arrested after that attack, police said eight had ties to Hong Kong's organized crime gangs, known as triads.
After today's attack, one pro-democracy protest organizer told the crowd assembled in Admiralty that they would need to have their bags checked, because people may be hiding weapons in them.
Attempts to block the media
Over the weekend, anti-Occupiers staged their own occupation in front of a printing plant that produces Apple Daily, a tabloid paper that is often critical of Beijing. The groups blocked distribution of Apple Daily as well as USA Today and the International New York Times until early this morning.
"How can  Hong Kong be an open and free market when the distribution of newspapers is physically blocked from distribution?," Mark Simon, a commercial director with Next Media, which publishes Apple Daily, said in an e-mail.
"Zero chance" of success
Hong Kong's pro-democracy protesters have "almost zero chance" of achieving their goals, chief executive Leung Chun-ying said in an interview on Sunday. Protesters want Leung to step down and Hong Kong voters to be able to choose candidates for his job themselves, instead of voting on nominees approved by Beijing. Leung has refused to meet with protesters, and his deputy cancelled a scheduled meeting with them last week. He refuses to step down, saying his resignation "will not solve the problem."
The government's refusal to negotiate, and the Anti-Occupy attack, don't seem to have deterred pro-democracy protesters. Hours after the latter, they were rebuilding barricades: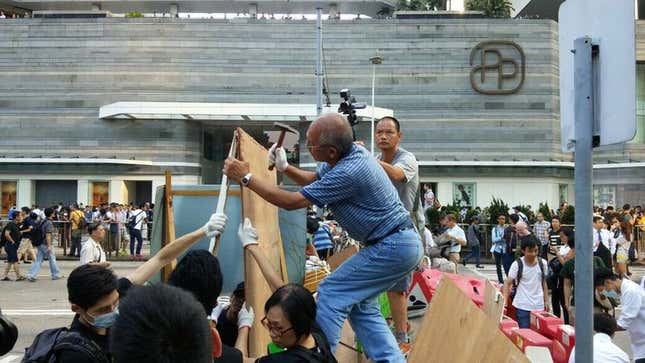 and had put out more tents: