The numbers: Good. Citigroup said today it earned $3.44 billion in the third quarter, up roughly 7% from the same period a year earlier. Revenues rose more than 9%, to $19.6 billion.
The takeaway: Though Citigroup has long touted its global reach as a competitive advantage, the bank said Tuesday it is pulling the plug on consumer business in 11 countries, including Japan, the Czech Republic and Peru. The retreat continues a reassessment of Citigroup's global presence, which has been underway since 2009. As part of the overhaul, the bank also scaled back operations in Greece and Brazil, among other markets. The impact on the business has been clear. Just over four years ago, Asia and Latin America generated more than 70% of Citigroup's income. Those same regions accounted for about 44% of the bank's income in the third quarter.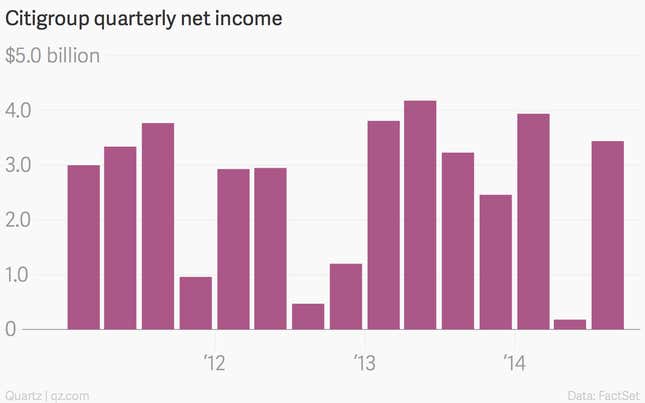 What's interesting: Citigroup's Japanese bank and its 33 branches have long served as something of a laboratory for the company. It tested branch makeovers in Japan before introducing them stateside. And Citigroup also overhauled processing systems and software that enabled the Japanese retail bank to share information across multiple lines of business, a move that foreshadowed similar upgrades at branches in the U.S. and elsewhere.