The numbers: Fair. Wells Fargo said today it earned $5.7 billion in the third quarter, up about 3% from the same period a year earlier. The nation's fourth-biggest bank by assets reported revenue of $21.2 billion, up about 4% from a year ago.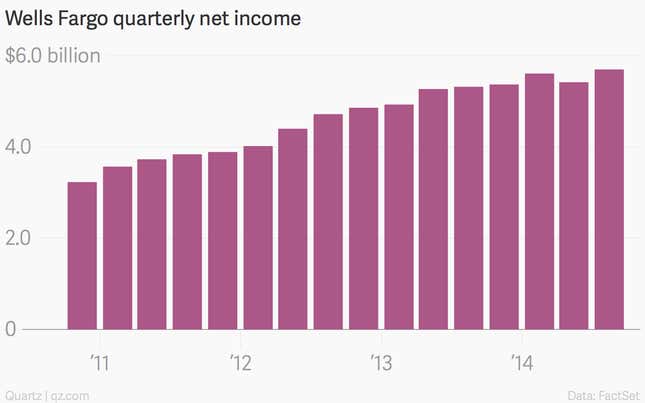 The takeaway: Wells continues to make more loans and earn less on them. Wells Fargo's loan book grew 3.7% from a year earlier, to $839 billion. However, net interest margin, which measures the difference between what a bank earns in interest on loans and pays in interest to depositors, compressed 33 basis points from a year earlier, to 3.06%, marking six consecutive quarters of decline. While loan profitability could rise if the U.S. economy continues to strengthen and interest rates rise, global growth fears may cause the Fed to move more slowly in allowing interest rates.
What's interesting: Here in the US, Wells Fargo, which originates more mortgages than any other lender, is a bellwether for the US housing market. Wells Fargo originated $47 billion in home loans in the quarter that ended September 30, down 40% from a year ago but up 2% from the second quarter. Analysts will be keeping a close ear to the company's post-earnings conference call, in search of comments about the strength of demand for home loans.