With the rise of e-commerce, more retailers are scrambling to stay ahead of consumers' evolving expectations about home deliveries.
To that end, insight into global distance selling sales—sales where customers purchase items via TV, phone, or internet and have that good delivered to their home—is now a retailer's best friend. According to market research firm e-Marketer, global e-commerce sales are expected to jump by 20% to $1.47 trillion this year alone, and by 16% next year. Worldwide delivery company DHL checked the pulse of delivery-based consumers in a survey of over 11,000 people aged 16-64 in 20 countries. Here are its findings in 10 charts:
The British and Germans are all about getting goods delivered; Canadians not so much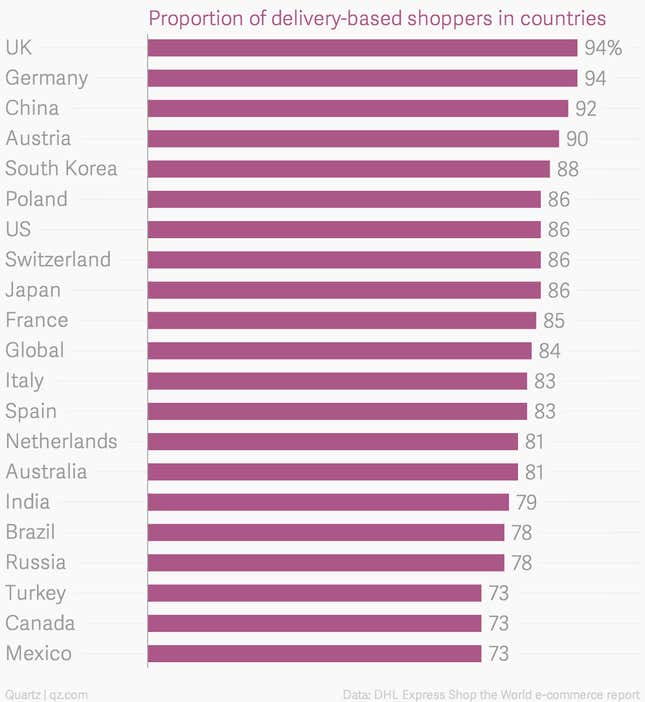 Globally, 84% of people online buy stuff through delivery. Industrialized countries in Europe (shaded in dark grey) are especially fond of online delivery shopping, much more so than emerging economies (in red). Industrialized countries in the Americas and Asia Pacific (in light grey) are a mixed bag.
US consumers order the most stuff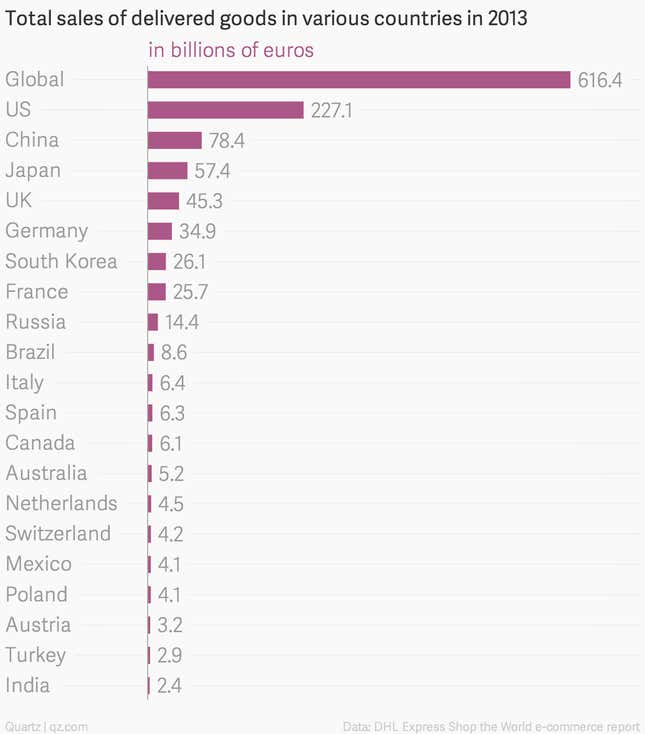 The US, China, and Japan are the biggest distance selling markets by sales. The largest growth, according to DHL, is expected in China. Distance selling there is slated to rise 24.5% annually until 2018; Mexico is the next fastest grower at 16.5% and then Australia, at 16.4%.
Much of the world still researches their shopping offline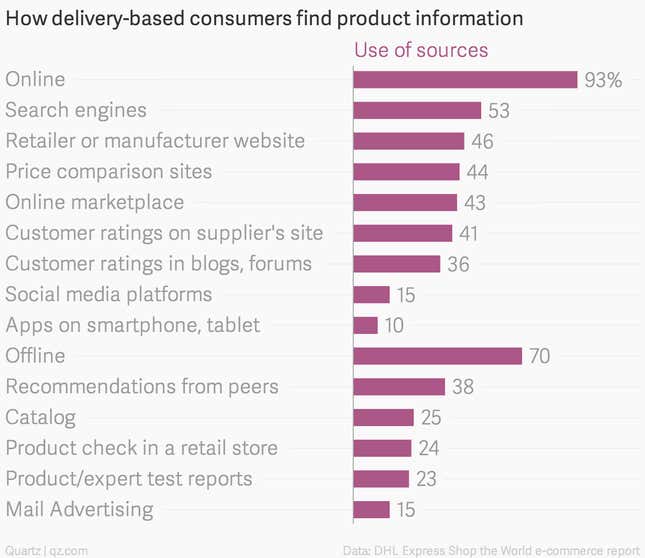 Ninety-three percent of those who get things delivered to them go online to search for products, but many people also use offline sources like catalogues and mail advertisements. (In the above chart, the bars indicate the average percentage of people globally who use that method of search; the flags represent the countries where those methods are particularly popular.)
Consumers in Korea and Japan are partial to affordable prices, promotions, and special offers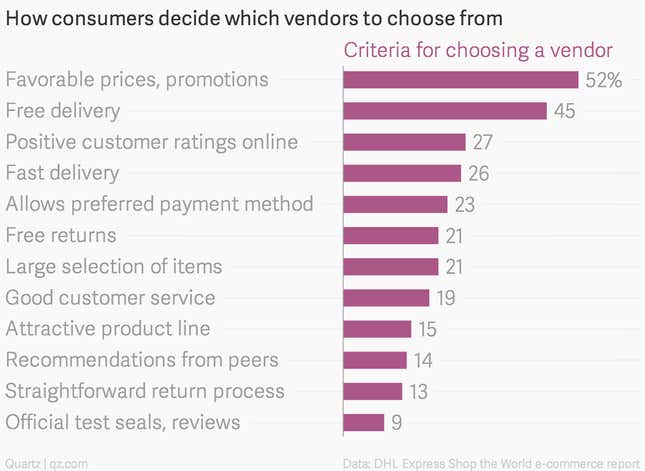 Over half of respondents to DHL's survey said favorable prices, promotions, and special offers were key in determining which retailer to buy from; those in Korea and Japan were especially keen. Sixty-six percent of respondents in South Korea and 64% in Japan ranked the category as most important.
About 30% of respondents don't use credit cards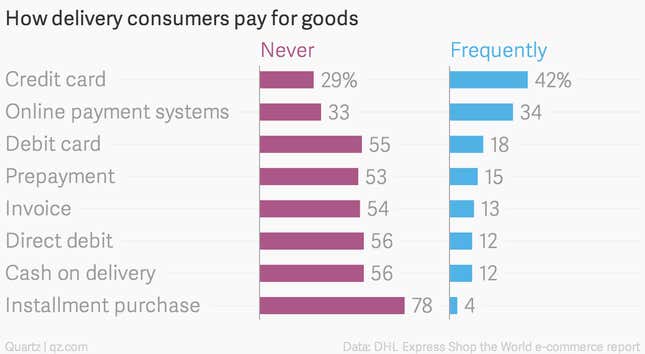 The US, South Korea, and Brazil are the lands of plastic—over 80% of respondents said they used credit cards—but almost a third of the surveyed community doesn't use them. The Netherlands, Poland, and Russia were skeptical about credit card use; less than 25% of respondents used them to purchase delivered goods.
Germans and Austrians return the most orders
Customers in Germany and Austria return 13% of their orders. In German-speaking countries, the UK and Canada, primary reasons for returns bad fit and product malfunction. Poor quality was the most cited reason in emerging economies and South Korea.
Turks and Koreans are least patient with their delivery dates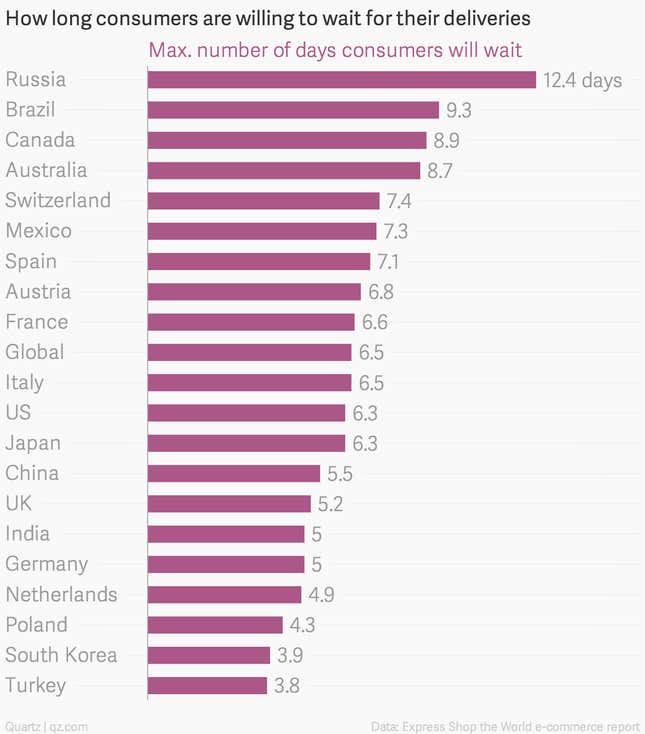 According to the DHL study, people with high population densities like Turkey and South Korea expect their goods to be delivered in a much shorter timeframe than those in less dense countries like Russia, where consumers are willing to wait nearly two weeks for their deliveries.
Indians use the post and fax to place orders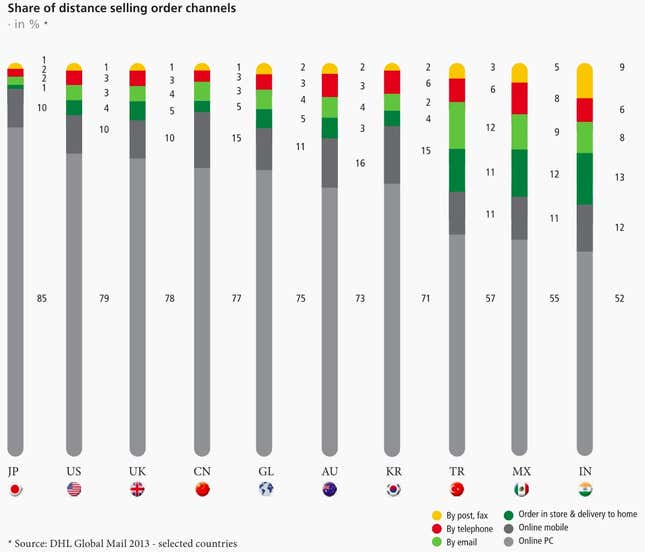 Delivery orders are most commonly placed online globally. But in India, fax, regular mail, and in-store purchases that are delivered home still make up a good chunk of delivered orders.
People everywhere want free deliveries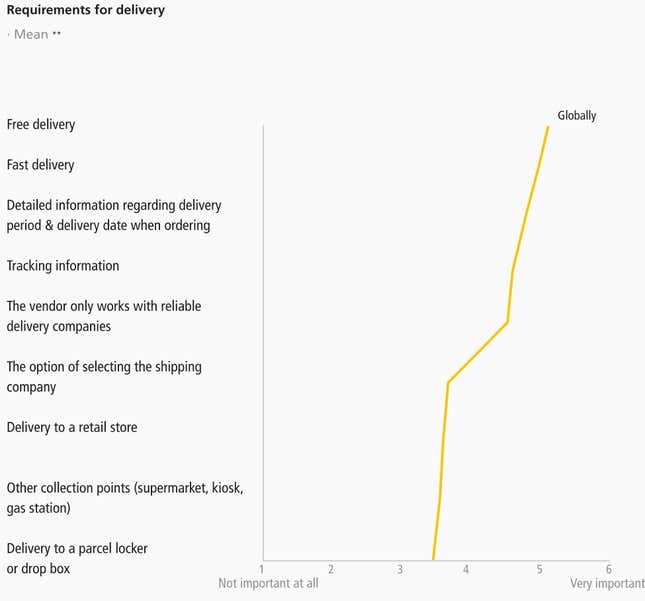 On a scale of one to six for what criteria is key in having an order delivered (one being not important and six being very important), free delivery was rated highest at 5.3. Speed came in next highest, followed by detailed information about the delivery.
Austrians are most likely to order goods from another country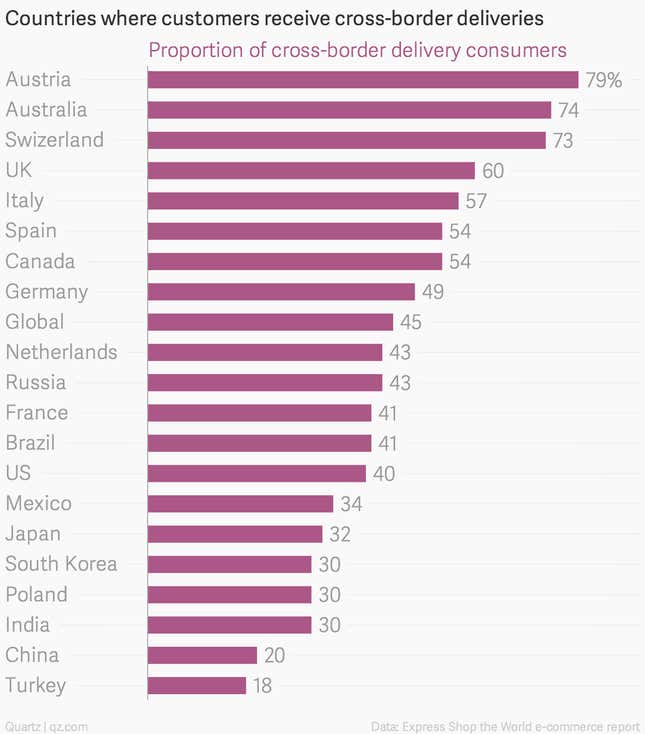 Globally, 45% of online customers purchased things from across their borders (and 77% said they would in the future). And on average, over half of those orders came from the US.