The numbers: Ugly, but expected. Bank of America said today it earned $168 million in the third quarter, down from $2.5 billion a year earlier. Revenue fell 1% to $21.4 billion.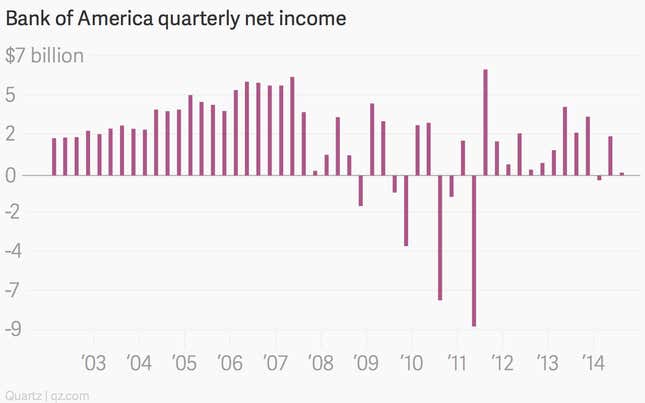 The takeaway: In August, Bank of America agreed to pay $16.6 billion to settle charges by the Department of Justice and six states that it—and subsidiaries it purchased including Countrywide Financial and Merrill Lynch—sold toxic mortgage securities in the run-up to the financial crisis. The bank had previously warned that the pact would erase most of its profit in the third quarter. (It also earned BofA the title for the bank that was punished the most for its mortgage practices.) But investors are hoping the accord means that the nation's second-biggest bank by assets has put the bulk of its legal troubles behind it.
What's interesting: Possible signs of better days ahead for both Bank of America and the US economy: charge-offs for troubled loans fell 38% from a year ago, to $1 billion. The bank, which is the second-biggest US issuer of credit cards and a bellwether for consumer spending, issued 1.2 million new credit cards in the quarter, up 15% from the third quarter last year. The improving health of the US credit card industry shows that consumer sentiment is finally healing from the worst of the Great Recession and a painfully slow recovery.