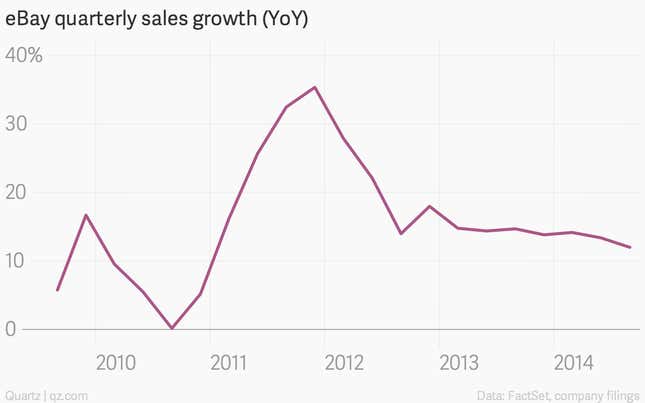 The numbers: eBay posted earnings of $673 million (or $0.54 per share) on revenue of $4.4 billion, which was up 12% from a year ago. But for the second straight quarter, the online auction site was forced to cut its revenue forecast. It continues to feel the effects of a huge security breach it suffered in May. The stock has fallen by about 3% in after-hours trading.
The takeaway: PayPal continues to generate strong numbers, generating revenue of $2.0 billion, slightly above expectations. Net total payment volume (TPV) grew 29%, and merchant services volume was up 37%. But eBay is spinning off the payment business, so investors were looking for growth in its core operations.
What's interesting: There were concerns about the threat of competition from Amazon and others, but eBay Marketplaces gross merchandise volume grew 9% (up 7% in the US and up 11% internationally), which was in line with expectations.