The numbers: Bad. Mattel said today it earned $332 million in the third quarter, down 22% from a year earlier. Net sales fell 8% to roughly $2 billion.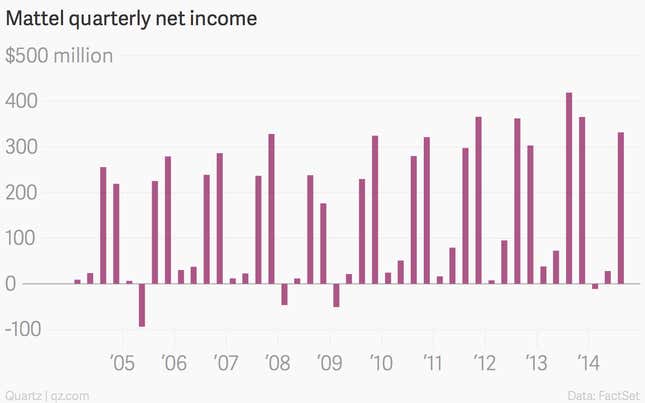 The takeaway: Tough times for the toymaker. Sales of Barbie tumbled 21% worldwide from a year ago after falling 15% a quarter earlier. American Girl doll sales fell 7% from a year earlier, to $113 million. Sales of Mattel's Fisher-Price toys slid 16%, to $663 million.
What's interesting: Mattel is struggling to shore up its business as the holiday season approaches. In September, the company, which recently relinquished its title as the world's largest toymaker, lost the right to design dolls based on Disney's Frozen and other princess characters (including Snow White, Cinderella, and the Little Mermaid) starting in 2016.
Still, there's money to be made on princesses before then: Sales of Frozen merchandise are expected to be strong through the first half of next year, says Sean McGowan, an analyst with Needham & Company. Plus, Barbie has a new boss. Last spring, Mattel brought back Richard Dickson, who is credited with revitalizing the Barbie line before leaving for the Jones Group, to be chief brands officer.