New York State Attorney General Eric Schneidermann is taking a shot at Airbnb. His report on the short-term rental service (pdf) released today, using four and a half years of Airbnb data, shows that 72% of its rentals in New York are in violation of zoning regulations or other laws.
Airbnb has been expanding rapidly, among business travelers as well as tourists. But Schneidermann has been looking to shut down the company's listings; the report's findings are a result of a subpoena in May.
The report, called "Airbnb in the city," finds that 6% of New York City Airbnb hosts disproportionately account for 37%, or $168 million of the generated revenue, highlighting the claim that many listings are placed by commercial operators running illegal hotels, not by locals looking to rent a spare room or apartment.
In one instance, one commercial user administered 272 listings, booked 3,024 reservations, and made $6.8 million.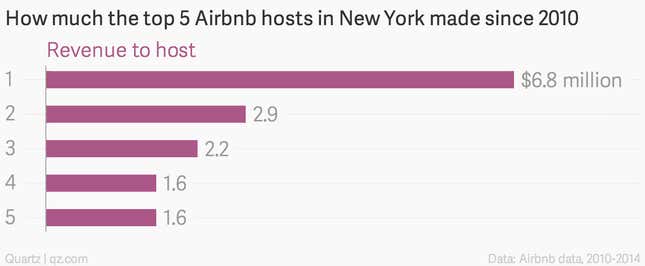 The report found that in 2013, 200 units housed multiple, unrelated guests at the same time for more than 365 nights during the year, indicating illegal hostel activity. Schneidermann also argues that, as a result of these illegal short-term rentals, New York is short $33 million in hotel taxes, according to data up until June 2nd of this year.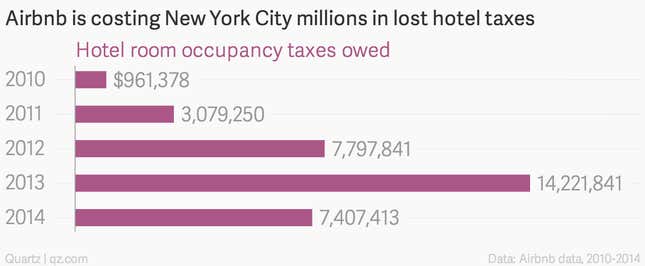 Long-term rentals also came under fire; the report found that many rentals were being used as illegal long-term sublets: 4,600 units were booked for three months or more, and of these, nearly 2,000 were booked for a cumulative total of half the year or more—suggesting the owners are rarely there.
Airbnb has not denied the numbers, but says the conclusions are not accurate. Nick Papas, a spokesperson for Airbnb, sent Quartz the following statement:
We're proud that Airbnb has helped countless families pay their bills and stay in their homes.
Now, we need to move forward. We should not deny thousands of New Yorkers the chance to share their homes, pay their bills and stay in the city they love. We need to work together on some sensible rules that stop bad actors and protect regular people who simply want to share the home in which they live. We look forward to working with everyone in New York in the weeks ahead.

The report's conclusions rely on incomplete and outdated information. For example, the findings do not account for the more than 2,000 listings we have already removed from our community in New York. Additionally, every single home, apartment, co-op and living space in New York is subject to a myriad of rules, so it's impossible to make this kind of blanket statement. That kind of uncertainty and lack of clarity is exactly why we're advocating for clear, fair rules for home sharing.