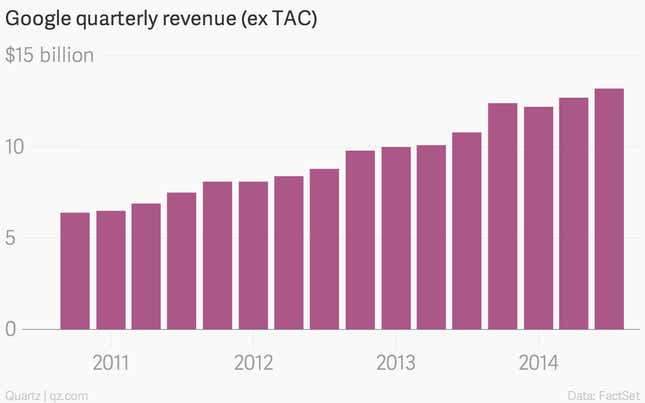 The numbers: Google reported quarterly revenue, less traffic acquisition costs, of $13.2 billion, in line with consensus estimates complied by FactSet. Net income of $2.8 billion, or $4.09 per share (using normal accounting standards) looks well below estimates. Shares have fallen by more than 3% in after hours trade.
The takeaway: The average cost per click for advertisements (a measure of how much Google charges advertisers in its auction-based systems) fell by 2% during the quarter, while traffic acquisition costs—the amount it pays to partners for traffic (for example to Apple for default Google searches via the Safari browser on iPhones) rose by about 13%. Google added nearly 3,000 employees during the quarter, taking it above 50,000 employees (55,000 if you include staff at Motorola Mobile) for the first time.
What's interesting: Not much! Google is a fascinating company, involved in all sorts groundbreaking activities, including its much maligned wearable technology (Google Glass), to acquisitions of drones and home thermostat companies and its push to deliver wireless internet in unconnected regions in emerging markets. But its core business of search advertising remains quite boring. It is showing some signs of weakness though, but revenue was still up 20% from a year ago so nothing to be too alarmed about.