Large swaths of the world—Russia, the Middle East, Venezuela—and a number of big companies are in turmoil over an abrupt 25% plunge in oil prices. Leaders of these countries fret about how to pay their bills, while companies wonder how they'll keep their doors open.
But a few industry observers are urging calm: Oil prices are headed right back up, they assert, quite possibly as we speak.
Sanford Bernstein's Oswald Clint is sticking with his firm's forecast that international benchmark Brent oil prices will average $106 a barrel for the year. Even Citi—the loudest voice on Wall Street for an age of lower prices—hasn't changed its $105-a-barrel prognosis of average prices for 2014.
As if in sync, prices today are rebounding. Brent was trading as low as $87.54 as of this writing, after falling as far as $82.93 yesterday.
Citi has argued that a lot of oil has no market at the moment because refineries that ordinarily would be processing some 5 million barrels a day are undergoing routine maintenance. Soon they will return to service and sop up much of the oil that is sloshing around the market, the bank says.
Clint's reasoning is that the average cost to produce a barrel of oil is about $100. Lower than that, and a lot of drillers are losing money. If the low price trend persists, they will have to take production off the market. "We are trying to argue that oil has shot down through marginal cost and [that] now forces of nature will take over to bring it back as marginal cost hasn't changed," he said in an email exchange. "Hence energy investors will make money as the oil market hasn't radically changed."
In the chart below, Bernstein calculates the cost of producing a barrel of oil in major oil countries.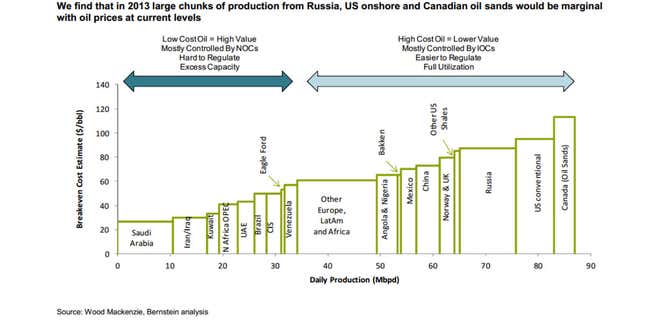 If the banks are right, then Russia, Iran, Venezuela and others have nothing to worry about. But prices will have to reverse dramatically. As of now, the 2014 average price of Brent is about $104. It fell below $100 on Sept. 9 and has been at $90 or less for more than a week. So prices will have to rise well above $106 in order to reach either of the investment banks' predicted averages for the year.