The numbers: A mixed bag. The German enterprise software giant reported third-quarter earnings that more or less met market expectations, and upped its sales forecast for certain business lines. But it trimmed its operating profit expectations for the year, to €5.8 billion ($7.4 billion) on the high end, down from €6 billion.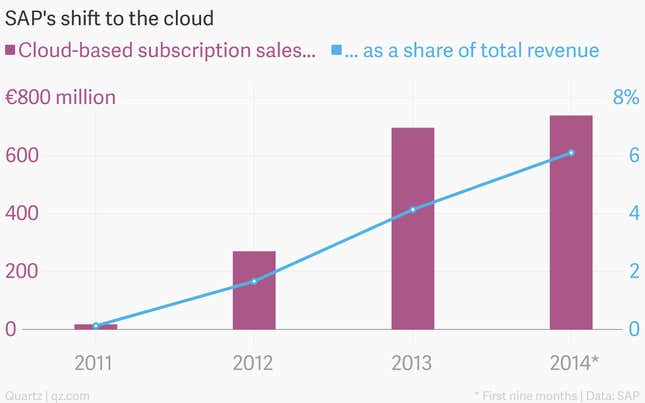 The takeaway: In an interview earlier this month, CEO Bill McDermott said that SAP's business "has never been stronger," so investors punished the unexpected profit warning today. Shares fell by more than 4% in early trading in Frankfurt, despite the company's emphasis on its robust cloud-computing revenue, which has grown by more than 50% in the first nine months of the year.
What's interesting: Delivering software via online subscriptions instead of local installations is a double-edged sword for SAP. The company boosted its forecast for cloud-based sales this year to a range of €1.04 to €1.07 billion, up from a previous expectation for €1-1.05 billion. But since revenue from cloud subscriptions is recognized over time, instead of all at once when customers install traditional software on local machines, the transition from offline to online delivery is denting SAP's margins. The investments required to revamp the company's business model—most notably the pricey acquisition of cloud specialist Concur last month—will also bring short-term pain in the pursuit of long-term gain.