The numbers: Bad. IBM said today it earned $18 million in the third quarter, down from $4 billion a year earlier. The loss reflects a charge of $4.7 billion including costs to the sale of the company's unprofitable chip-making business to GlobalFoundaries. Revenue fell 4%, to $22.4 billion.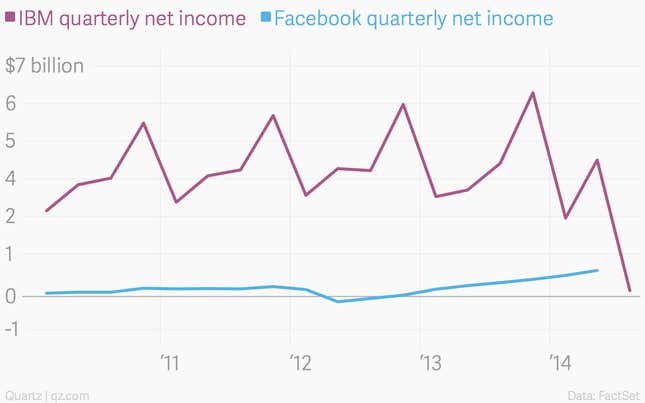 The takeaway: IBM cannot give its chip business away. The company is paying GlobalFoundaries, which is owned by the government of Abu Dhabi, $1.5 billion to take the unit.
What's interesting: Intel has supplanted IBM as the dominant maker of semiconductors. (Facebook has eclipsed IBM in market capitalization, in something of a tech-related changing of the guard.) That leaves businesses such as providing software services online and data analysis, according to chief executive Ginni Rometty, who has mapped out a plan to move company into what she terms "higher value." But the cloud can be crowded. Think Amazon, which pioneered providing cloud-computing services to corporate customers. Adding to IBM's woes in the quarter: revenue from the company's self-described growth markets, which include Brazil, India, Russia and China, tumbled 6%. In other words, IBM's strategy doesn't seem to be working.