The numbers: Good and improving. Apple's September-quarter results were better than expected—showing overall strong performance, except for the already struggling iPad business.
Overall, revenue passed $42.1 billion and profit reached almost $8.5 billion. That represented 12% year-over-year sales growth, which is an acceleration over the past 1.5 years of slower growth. And Apple is predicting even faster growth during the coming holiday quarter. It forecast $63.5 billion to $66.5 billion in sales, representing up to 15% growth. (The midpoint, $65 billion, would be a 13% improvement over last year.)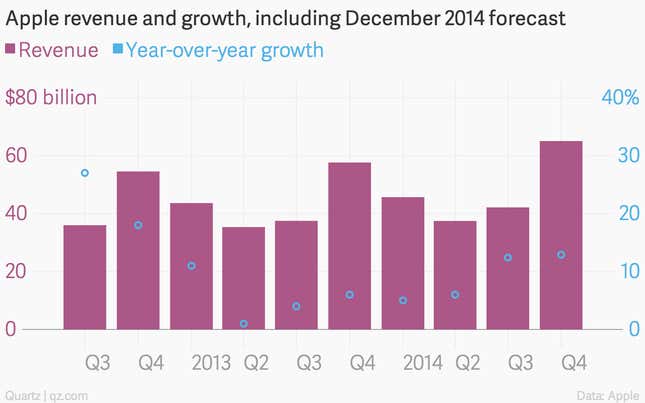 The takeaway: Apple's inability to meet demand for the new iPhone 6 and 6 Plus—its most important products, launched right at the end of the quarter—didn't hurt at all. In fact, iPhone shipments of 39.3 million handily beat expectations. The question turns to this holiday quarter. Can Apple move 60 million iPhones in a quarter for the first time?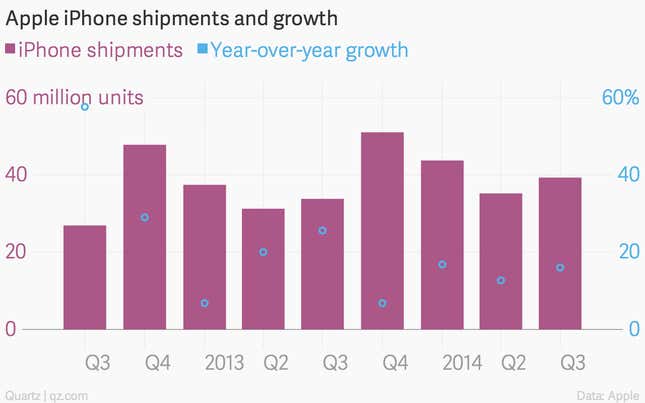 What's interesting: The Mac is back. After seeing sales peak in the December 2011 quarter, Apple just set a new single-quarter record for Mac shipments at 5.5 million. Why now? Perhaps iPad weakness—sales declined 13% to 12.3 million—played a role. With a new iMac on the market, and a super-thin new laptop rumored to be on the horizon, Apple's 30-year-old Mac business is showing new life.