The numbers: Rough. Sales were down 5% from the same quarter last year, dropping from $7.3 billion to a shade under $7 billion. Comparable store sales were down 3.3%. Sales growth at the company can be somewhat erratic, but the current downturn is the worst since the recession, and there have been more than two years of weak or negative growth.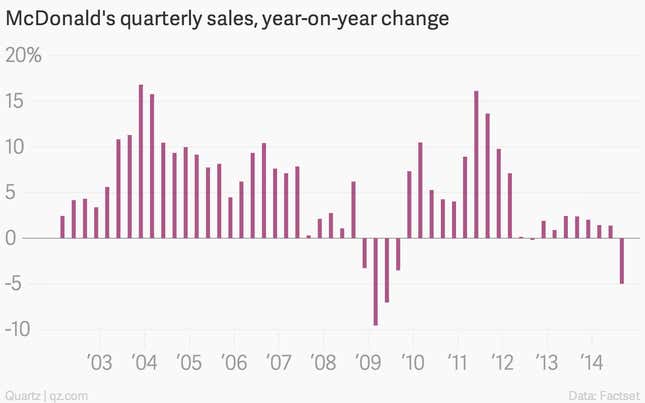 The takeaway: Just about everything is going wrong for the company. Sales and customer traffic were down in every market segment. Things are particularly bad in Asia, where an issue with a Chinese meat supplier revealed in July helped drive sales down 9.9%. In the US, the company's biggest market, sales fell 3.3%.
What's interesting: The company is working on a whole host of strategies to boost sales, including simplifying the menu and improving restaurants. None of it seems to be working to this point, and franchisees aren't optimistic the company's plans will turn things around. In a press release, CEO Don Thompson didn't exactly project positivity, predicting continued "formidable" headwinds internally and externally through the next quarter, and negative sales in October.