The numbers: Bad. Coca-Cola said today it earned $2.1 billion in the third quarter, down 14% from a year ago. Revenue fell about a half-million dollars, to $11.98 billion. Shares fell.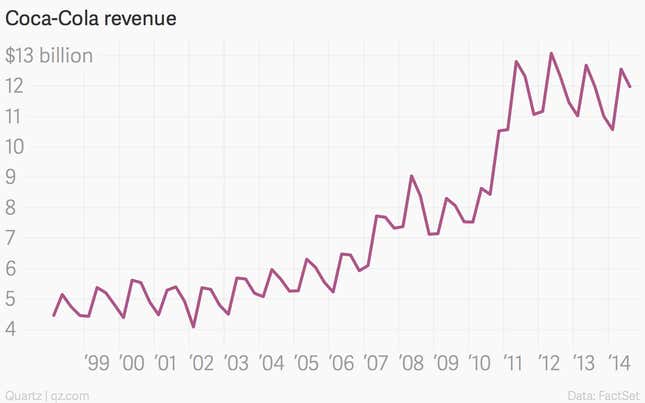 The takeaway: Sales rose just 1% worldwide in the quarter thanks to competition, a tough economy and bad weather in Europe, Coca-Cola said. The company presented plans to cut costs by $3 billion over five years.
What's interesting: Unlike rival PepsiCo, which derives half its revenue from snacks, Coke focuses almost entirely on drinks. And people are drinking less of the soda that traditionally was the core of the company's business. In August, Coca-Cola said that it bought a 16.7% stake in Monster Beverage Corp. for $2.2 billion. Coca-Cola chief executive Muhtar Kent has said he aims to accelerate global growth, enlarge the company's drink portfolio and make more use of marketing and media to deliver the company's message.