That great, American Millennial tradition of password sharing for subscription-based content services (think Netflix or HBO Go) has never really extended to Spotify.
The popular music streaming service does not officially allow people to share passwords. And since many people use Facebook to log into the service, and you can only use one account from one device at any given time, it's very hard to do anyway.
But today it got a little bit easier—in a sense. Spotify has introduced family plans, giving  50% discounts to up to four family members who join an existing account. That means an account with five people on it will now cost less than $30, compared to $50 previously. Individual users on shared accounts will still be able to create their own playlists and receive their own music recommendations.
Spotify is the biggest subscription music service in the world, with, at last count, 10 million paying subscribers and 40 million active users. It's biggest challenger globally, Deezer, has 5 million subscribers, and has yet to launch in the US.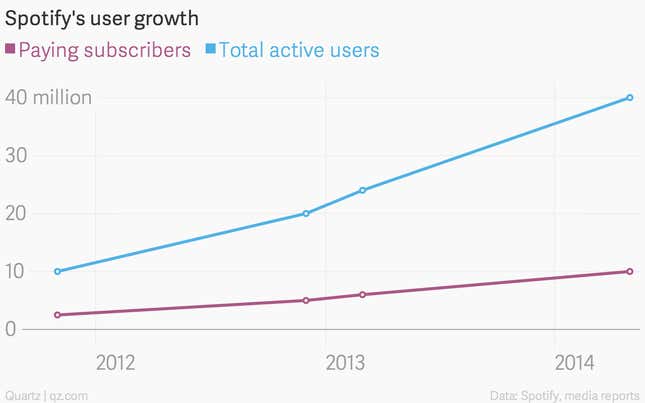 Family plans, a common pricing mechanism in the telecommunications industry, could help drive user growth (and prevent existing users from canceling their subscriptions), which would benefit Spotify's outlook if ends up going public. The company has been linked with a possible IPO this year.