London's technology startup scene has been a magnet for venture capital this year, attracting more than $1 billion through September—10 times more than in all of 2010. And its pull is getting stronger, judging not just by the available cash but by the widening range of sources eager to supply it.
This week, Infocomm Investments became the latest to join the throng. It's part of the Infocomm Development Authority of Singapore, a state-funded body that works as Singapore's telecom regulator, chief information officer to government, and state investor all rolled into one. Steve Leonard, Infocomm's chairman, says that being based in London means having access to companies and ideas from across Europe, whereas being based in Finland, for example, would restrict the fund's geographic focus.
Another new source of funding and mentorship in London is Breed Reply, an internet-of-things focused incubator from another unlikely source: Italy. Breed Reply is part of the fascinating Reply Group, a low-profile Italian company that started in 1996 and has grown to have more than 70 companies under its umbrella and revenue of more than half a billion euros last year.
Like Infocomm, Breed Reply does not have a set amount of cash it must disburse in a set amount of time to please their funders. The money for Infocomm's investments comes from its "evergreen" $200 million dollar fund for investments; Breed Reply, meanwhile, has license to invest as it sees fit.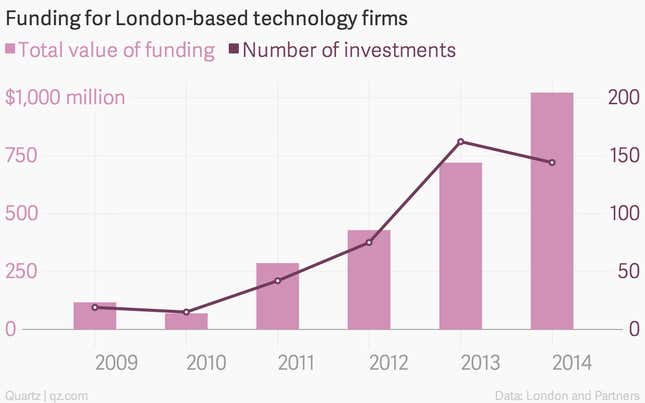 Both investors take a long-term view of their work in London, and promise that they aren't competing with existing venture capital outfits. Reply's proposition includes its research and development and testing facilities, says Emanuele Angelidis, the incubator's CEO. It also offers access to a huge roster of clients, thanks to relationships built through Reply's other companies. Reply's first investments include $5 million in Sensoria, a company that makes wearable technology, such as "smart socks" with sensors that detect things like pressure and force. Another, smaller investment is for £675,000 ($1.09 million) in X Metrics, a performance tracker for swimmers.
Infocomm's first investment went to Startupbootcamp FinTech, an accelerator aimed at financial technology firms. As part of the deal, Startupbootcamp will extend its work to Singapore, an Asian financial hub. This is part of Infocomm's pitch: "We have money as well, but it is not our lead offer," says Leonard. Instead, Infocomm plays up its ability to make introductions, cross-pollinating ideas between London and Singapore, and helping companies find new markets.
The two new investors come at a time when London's star is very much on the rise. This week, TechCrunch held the European edition of its marquee conference in London. (It was in Berlin last year.) And earlier this year, Google Ventures launched a London-based fund for European startups, bringing in another $100 million of available funding.