The numbers: British American Tobacco (BAT) reported that its revenues fell almost 10% in the first nine months of the year, compared to the same period last year. "The trading environment remains challenging due to continuing pressure on consumer disposable income worldwide and the slow economic recovery in Western Europe," the company says. The Lucky Strike producer still makes around 17% of its total cigarette sales in Western Europe, and the swings in currencies affected the company significantly; at constant currencies, BAT's revenues actually increased. The company also doesn't seem to have had much traction with its e-cigarette brand, Vype, which launched last year in the UK.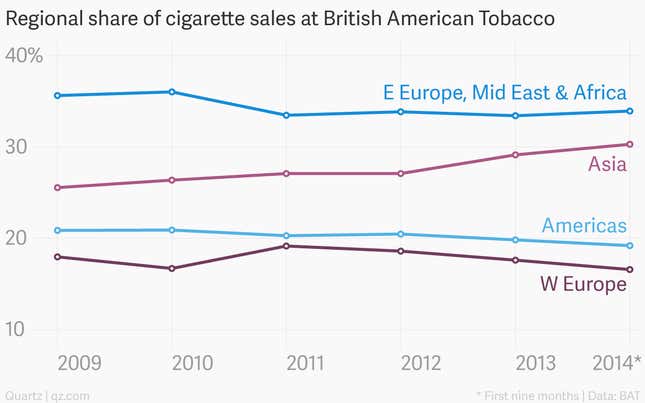 The takeaway: Shares in the company fell 4% in London by midday. But the company's shares are up 67% in the past five years as investors eye its potential outside of the West, where government regulation of cigarettes is high and ever increasing. In 2011, New York banned smoking in all of the city's parks and beaches and the just last week, a report called for cigarettes to be outlawed in public parks in London and iconic locations such as Trafalgar Square, after cigarettes have already been banned from public transport. It comes as the UK is on the verge of introducing standard unbranded packaging on all packs. The smoking advocacy group Forest—yes, such a thing exists—is outraged by these moves, of course, but in the US and Europe, public opinion is not in smokers' favor.
What's interesting: Smoking in the Americas and Europe is in decline. In Western Europe alone, sales fell from 130 billion cigarettes in 2009 to 119 billion last year. Almost two-thirds of BAT's business now comes from Asia and the Middle East, Eastern Europe, and Africa— an unusual combination BAT uses for accounting purposes. Asia accounts for 30% by itself and in a couple of years is likely to be BAT's biggest source of sales by volume—if the company doesn't get a toehold in the e-cigarette game. But that doesn't mean selling in the emerging world will be an easy, unregulated ride for BAT and its rivals in the future. Last week, India announced that 85% of cigarette packs will soon be covered by health warnings.