An estimated 330 million urban households around the world lack proper housing or are financially stretched by housing costs. By 2025, the number is expected to overtake a third of the world's urban population, according to findings in a McKinsey Global Institute report.
The problem is especially severe in developing economies, where 200 million households live in slums. Sixty percent of the world's substandard housing in urban areas is concentrated in 10 developing countries (ranked by the number of people in substandard housing).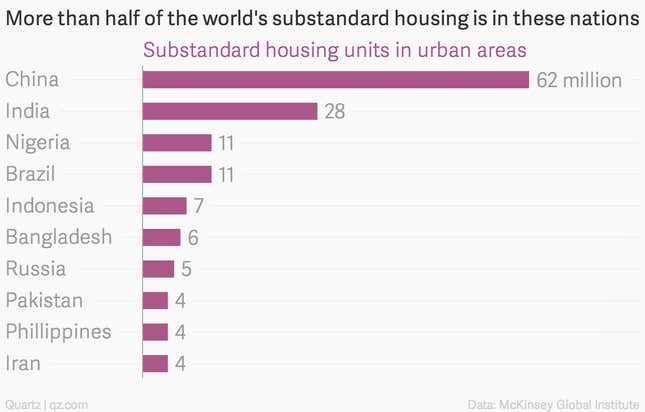 Advanced economies aren't immune; more than 60 million households in richer economies are financially stretched by housing costs and 35 million live in crowded, inadequate, and unsafe housing. For example, in the EU, 5% of households live in overcrowded or substandard housing. About 8% of Japanese households live in housing units that don't meet acceptable housing standards. In the US, around 2% of the country's population lives in substandard housing.
Even some of the world's wealthiest cities like New York have extreme housing problems; For 20% of New York City households, rent exceeds 75% of household income, and 1.5 million households (of around 3.1 million) can't afford market housing.
The global housing affordability gap, the difference between income available for housing and the market price of a standard housing unit in a region, amounts to nearly $650 billion per year, or 1% of global GDP.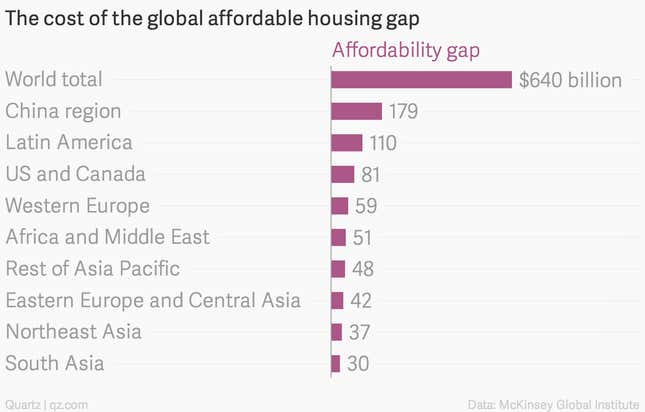 In some of the least affordable cities like Lagos and Mumbai (the report analyzed 2,400 cities), the gap exceeds 10% of local GDP. Some of the more extreme cases include Dhaka, Bangladesh, and Lagos, where more than 90% of households are unable to afford housing units at market prices.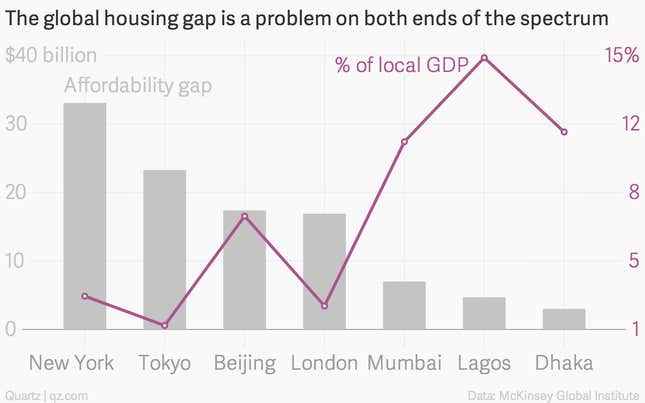 Mitigating the problem would require providing some 440 million housing units, which could cost as much as $16 trillion, according to the report.
McKinsey advocates for some less conventional solutions, such as making public land available for development, lowering construction costs with innovative materials and design, and providing cheaper housing financing to buyers and developers. Such measures could half the global gap by 2025, it said.