The numbers: Good. American Airlines said Thursday it earned a record $942 million in the third quarter, more than triple what it earned a year ago. Revenues rose 4.4% to $11.1 billion.
United Airlines said it earned $924 in the third quarter, about two-and-a-half times the company's profit a year ago. Revenues rose 3% to $10.6 billion.
Delta, which reported its financial results on Oct. 16, said that profits fell 27% in the quarter, to about $1 billion, because of costs related to restructuring its fleet. Revenues rose 7% from a year earlier, to $11.1 billion.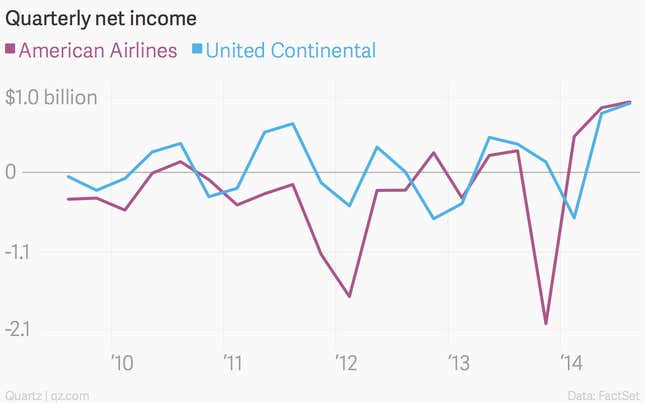 The takeaway: Sky-high demand and falling oil prices lifted the three largest US airlines. Passenger revenue at American, the world's largest airline since its merger last December with USAirways Group, grew by an average of 4.4% in June, July and August. Jet fuel cost an average of $102 a barrel during the quarter, down 8% from a year ago, according to American.
Ditto at United. Passenger revenue per available seat mile at the nation's second-biggest airline rose 3.9% from a year ago, to $9.3 billion. Fuel costs, the company's biggest expense, fell 3.8%, to $3.1 billion.
Traffic at Delta increased 3.7% in the quarter from a year earlier, while capacity rose 3.2%. The airline paid an average price of $2.90 per gallon for jet fuel, compared with $2.97 cents in the third quarter last year. The big airlines save an estimated $40 million for every cent's reduction in the price of jet fuel.
What's interesting: Investors today will be listening for what effect, if any, American and United anticipate that Ebola fears may have on their businesses. Delta CEO Richard Anderson last week told investors that the airline had seen no change in bookings.
For now the effect may be limited. American does not fly to West Africa, the epicenter of the outbreak. United and Delta each fly to Nigeria, while Delta also flies to Senegal and Ghana. But none of those countries present a risk to travelers, according to the US Centers for Disease Control.