When the owner of a crumbling, uninhabitable house in a flood zone is asking for a cool $1.8 million, you know the market is hot. Amid signs that the national housing market is cooling, property prices in tech-heavy Silicon Valley show few signs of sanity.
The median single-family home costs $900,000 in the San Jose metropolitan area, according to the latest figures from the National Association of Realtors. The area around San Jose, the biggest city in Silicon Valley, is closely followed by nearby San Francisco, with a median price that's still more than $100,000 short of the typical home in the technology hub. And prices in both areas are rising by double-digit percentages, versus a low single-digit national average.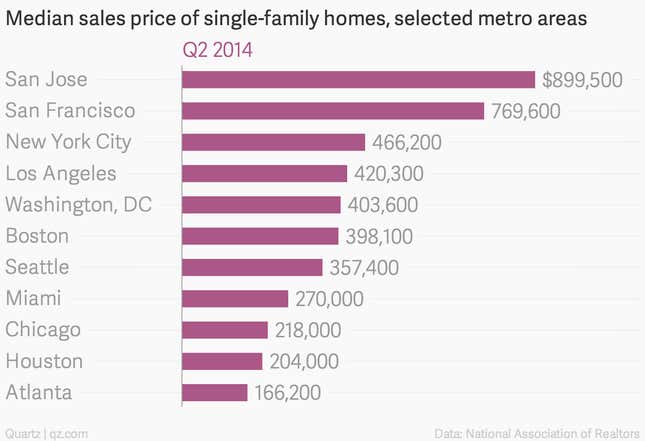 To fully appreciate how frothy Silicon Valley's property market is, consider how many houses you can buy elsewhere for the same price as one in Apple, Google, and Facebook's back yard.
Few people see the New York metro area as a particularly affordable place to buy a home, but your budget would just about fetch two houses in the Big Apple for the median price of one in San Jose. Or three in Portland, four in Philadelphia, and five in Orlando: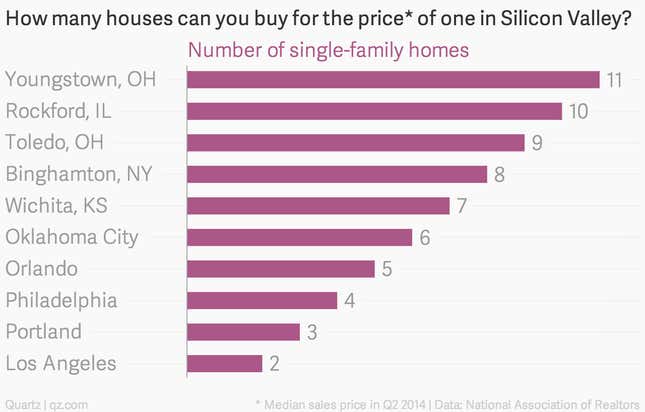 Looking at these sorts of numbers, it's no wonder that people are worrying about a potential property bubble, particularly at the high end of the market—homes over $1 million in San Jose have seen a 76% jump in price over the past year. But others think the boom has more room to run—newly minted tech millionaires (and billionaires) can pay cash for their mansions, so there isn't a particularly daunting debt overhang.
But how long will the Valley's budding captains of industry put up with just one place in San Jose when they could spend the same amount on an entire subdivision in an equally sprawling, featureless city somewhere else in the country?