"If we raise enough money to buy more than $5 million of debt, Donald Trump's head will literally explode!"
So exclaimed David Rees, MC of an event last night called the People's Bailout, a variety show and internet-age "telethon" packed with popular musicians from bands like Neutral Milk Hotel, Sonic Youth, and TV on the Radio, along with comedians, magicians, speakers, even nuns. It was hosted by a subgroup of Occupy Wall Street activists called Strike Debt.
Some members of Occupy Wall Street are still in the midst of organizing what has probably been the best-run Hurricane Sandy relief operation in New York City. With Strike Debt, the movement is again showing that it has an incredible capacity to organize and mobilize people, especially when it's working towards tangible goals.
Last night's fundraiser was a launch event for Strike Debt's Rolling Jubilee project, an effort to use donated money to buy distressed American debt for a fraction of its value—and then forgive that debt immediately, relieving the debtor of financial burden. Debtors are selected at random, and the debt itself is typically either medical debt or credit card debt, which can be absolved by filing for bankruptcy, rather than student loans or home mortgages, which can't. Because bankruptcy gives debtors an out, lenders aren't always hopeful that such debt will be paid back, so they are often willing to sell it to collectors for far less than its face value.
So the Rolling Jubilee is a debt collector that is interested in extremely cheap debt, but has no intention of ever collecting.
Last night's launch event, held in a swank basement venue in downtown Manhattan, was live-casted on the web, and instead of telephone operators, a coterie of tweeters monitored the donations coming in. The space was lined with posters that said "Strike Debt" and "You are not a loan."
Though the effort has just begun, the Rolling Jubilee has already raised more than $250,000, enough to buy over $5 million in distressed debt, though not quite enough to make Donald Trump's head explode.
Criticism of Occupy Wall Street
Occupy Wall Street catches a lot of flack for lacking a pointed policy message, for protesting against the behavior of banks and income inequality without offering a viable alternative.
These criticisms aren't unwarranted. Even Strike Debt's overarching mission is not only to alleviate debt but to get rid of the concept entirely. At last night's event, one of the speakers suggested New Yorkers should be upset by the fact that their subway system was built with debt and that large lenders still get a fraction of every metro card swipe. What was the city's alternative? Hike up taxes and squirrel money away for 30 years until it had enough to build a public transportation system out-of-pocket?
But when the group does have a concrete goal, it rises to the occasion. For Occupy Sandy, the name of their hurricane relief effort, members organized huge donation collections at churches in Brooklyn, separating the scarves from the mittens, the egg noodles from the peanut butter, and transporting it all to the hardest hit areas. Their website and Twitter account were kept up-to-date by a corp of volunteers in both the US and London, and some occupiers even set up an Amazon wedding registry with items needed by hurricane victims.
The Rolling Jubilee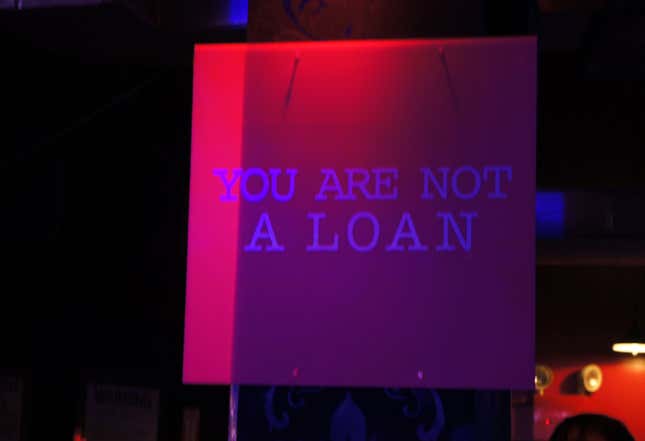 The Rolling Jubilee is probably working so far because last night's event was so star-studded, and the multiplying effect makes donating so compelling: a $25 donation can buy off $500 in debt.
And there's something really clever about the way the Rolling Jubilee is turning the concept of the debt market on its head. As Guy Picciotto, a guitarist from the politically conscious punk band Fugazi, put it last night, the group is buying "commoditized misery" to subvert the market for commoditized misery. "It's a real Trojan Horse strategy," he said.