The numbers: Good. United Parcel Service said Friday it earned $1.2 billion in the third quarter, up 10.7% from a year earlier. Revenues rose 5.7% to $14.3 billion.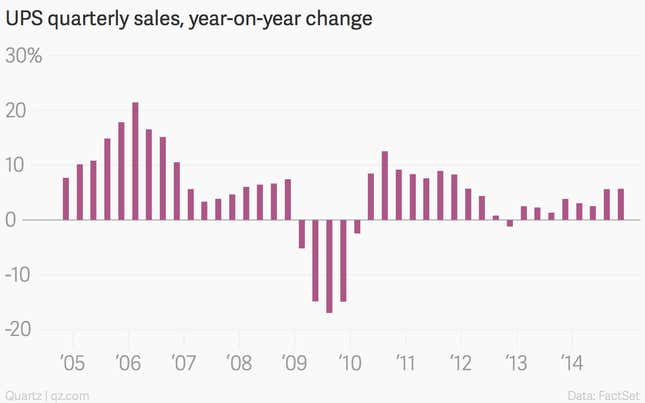 The takeaway: The world's largest delivery service said it shipped 14.5 million packages in the U.S. during the quarter, up 6.9% from a year ago. International shipments rose 6.7%, to 2.6 million packages.
What's interesting: UPS is benefiting from low fuel prices. Though the company upped its spending on transportation by 10% in the quarter, to $2 billion, fuel costs rose just 1%, to $978 million.
That should help the bottom line this holiday season, which will test anew the ability of UPS and other carriers to deliver an avalanche of packages on time. Last year a combination of bad weather and a wave of last-minute shopping online caused roughly 1.3 million UPS packages to arrive late, though merchants caused the delays roughly two-thirds of the time.
UPS says it will be ready. The company is spending $175 million–up from a projected $100 million–to improve its facilities, invest in technology and hire 95,000 seasonal workers, about 10,000 more than last year, to handle the load. It expects December shipments to be 11% higher than a year ago. "We expect another robust peak season and are confident our network is prepared to operate at the highest level," Kurt Kuehn, the company's CFO, said in a news release.