By any objective measure Pandora Media's earnings this week looked pretty solid. Revenue was up 44% from a a year earlier, stronger than analysts had anticipated; the company's financial loss narrowed; and it even upgraded its outlook for the full fiscal year.
And yet its shares sank by more than 13% today and are currently flirting with their lowest levels in over a year.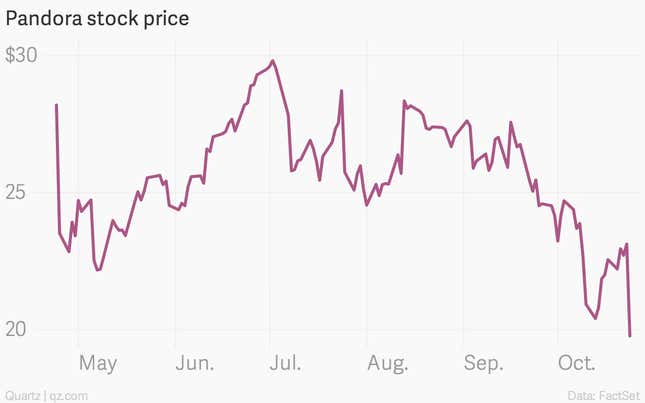 The post-earnings freakout (which is not that unusual for a volatile stock like Pandora's) has to do with the fact that it looks like user growth and engagement (as measured by total listening hours) are leveling off.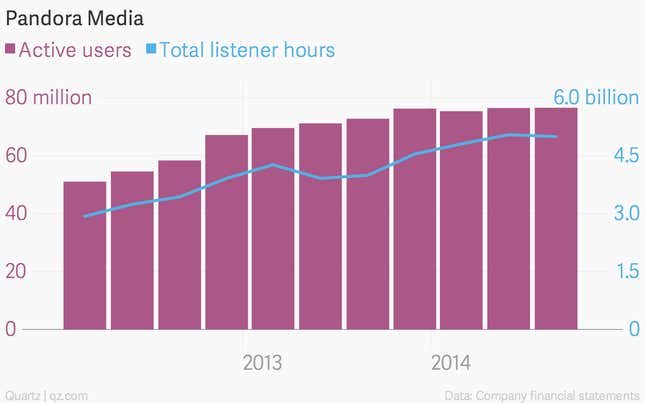 Pandora is making great progress in monetizing its user base. It more than doubled its local advertising revenue (the company has been beefing up its local sales teams throughout the country this year). The problem is that the company's lofty valuation is built on growing to a user base much bigger than it is today. And now that the company is facing competition from myriad other services (iHeart Radio, Spotify, Apple, Google) that growth is harder to achieve.
Pandora has plenty going for it. It is already the biggest standalone audio streaming service in the US. It has 76 million active users and is aiming to reach 100 million in the next few years.  It is the second most popular mobile app among millennials, behind Facebook. "We believe the story remains on track and concerns about moderating listenership are probably overblown," Piper Jaffray's James Marsh wrote this morning. (Balanced against this optimism is uncertainty over the future costs of content, but that's an issue for another day.)
Ultimately, the company needs to find a way to reignite growth in users and listening. Fortunately for Pandora, there is still room to grow. Despite its dominant presence in internet streaming, Pandora's audience still only amounts to about 9% of the size of the traditional broadcast radio market in the US—the company says 250 million Americans tune into old-fashioned radio each week. The challenge is to lure more broadcast radio devotees to streaming.