This Sunday, Brazilians will vote in a runoff election for their next president, deciding whether to keep the incumbent, Dilma Rousseff, or replace with her with the more business-friendly challenger, Aécio Neves. Neves is the underdog, but not by much. The two candidates remain neck-and-neck in polls, with Rousseff most recently turning up just ahead of Neves.

It's a moment when all eyes are on last-minute contributions, campaigning, and endorsements, which made it all the more bizarre when Lindsay Lohan—yes, Lindsay Lohan the troubled Hollywood starlet—apparently came out in favor of Neves on social media earlier this week. Lohan's publicist has since retracted the actress's endorsement. Undecided Brazilian voters were probably not waiting for Lohan to pick a side, but one has to wonder whether it could have actually hurt Neves in the polls, highlighting his reputation as an aristocratic playboy.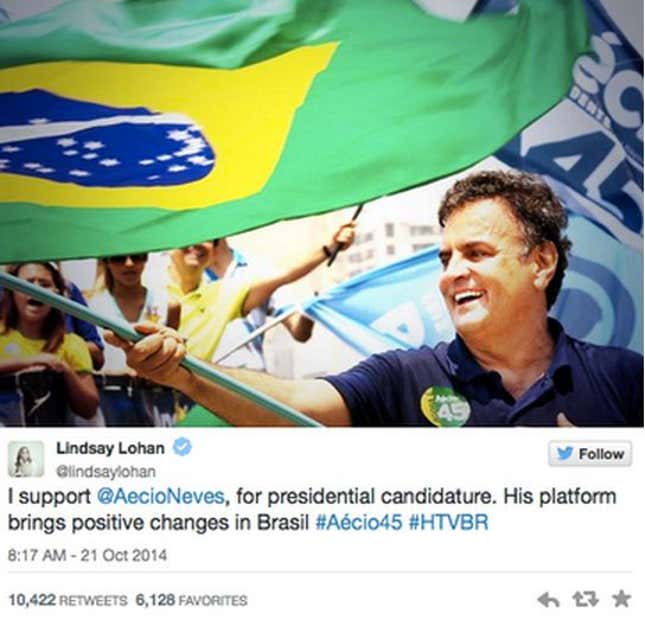 Be that as it may, Neves just got an endorsement far more meaningful in Brazil than Lohan's. Neymar, the beloved captain of Brazil's national football team who plays for the Spanish club FC Barcelona, has taken to Instagram, YouTube, and Twitter (where he has nearly 15 million followers) urging Brazilians to vote and declaring his support for Aécio Neves.
"We're in an important political moment, and I know that each vote will decide the future of our country," he said, both on camera and in a caption on Instagram. "I am going to support Aécio Neves because I identify with his plans for Brazil. But rest assured that regardless of the result on Sunday, I will continue to support my country and the president elected by the people." Legendary Brazilian footballers Zico, Romário, and Ronaldo have also endorsed Neves.
It's likely Neymar will have to cast his ballot in absentia, thanks to another close contest on the calendar for this weekend: This Saturday Neymar, Lionel Messi, and their new teammate Luis Suarez will lead Barcelona as they take on Real Madrid in the first El Clasico of the football season.