US gas prices are falling, but in defiance of the traditional logic, the country's economy may be unlikely to get much lift.
And the reason for that is enough to make environmentalists rejoice: Americans are driving less.
Prices at the pump have dropped 18 cents in the past two weeks, to an average of $3.08 per gallon, their lowest level in four years.
That should stimulate the economy, if what's past is prologue. Every cent the price of gas drops in a year adds $1.4 billion to the economy, according to estimates.
But that could be changing thanks to fewer cars, gas-guzzling SUVs, and other vehicles on the road.
As the chart below shows, Americans are expected to drive 2.98 million vehicles miles this year, down 1.7% from 2007.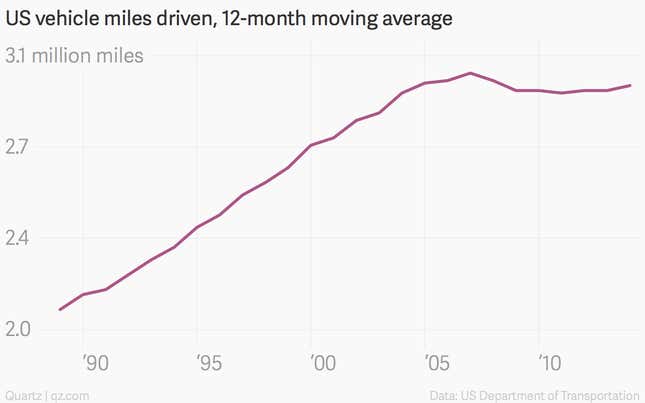 Several factors may be coming together to fuel the trend, including fewer people in the workforce, an uptick in fuel-efficient vehicles, and the renewal of city centers with robust mass transit systems, according to Julius Vizner, an analyst at Moody's Investors Service.
Not surprisingly, gas consumption is also expected to be down—5% from seven years ago, at 8.82 million barrels. "We now have fewer light-duty vehicles and we drive each of them less than a decade ago," writes Michael Sivak, a professor with the University of Michigan's Transportation Research Institute, in a paper published last year.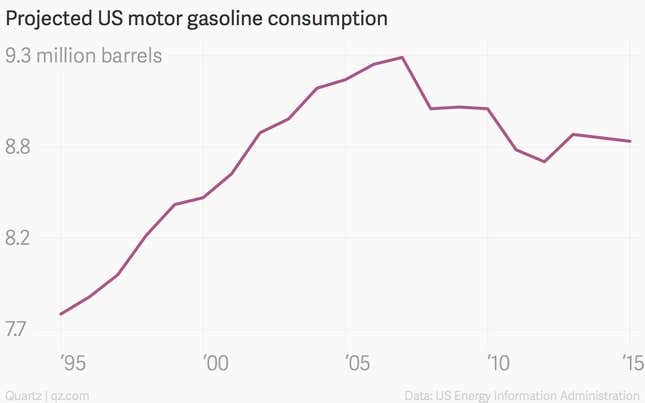 While it's too soon to tell how, if at all, falling fuel prices might affect the economy, we do know that a combination of less driving and more fuel-efficient vehicles has led to a falloff in revenue from gasoline taxes, which provide the bulk of funding for roads, bridges and other infrastructure.