Many in the tech world have predicted that this will not be the year of wearable technology, but the year the hype dies down. In the summer, Gartner, a research firm, published an updated version of its "hype cycle" chart, placing wearables at the precipice of the "trough of disillusionment," supporting that theory.
Be that as it may, a new report out from the consulting arm of PricewaterhouseCoopers (PwC) concludes that sooner or later wearable technology will catch on, at least in the business world.
Here is how PwC sees the impact of wearables on different aspects of ours lives. (Be warned: This list may trigger feverish visions of a dystopian future.)
On advertising:
For example, through wearable technology, brands could present relevant content to a shopper while they are considering a product—say, in a grocery store, recognizing items a consumer has placed in the grocery cart and serving up relevant recipes through augmented reality. Brands could even tap body cues to tailor messaging. Sensor revealing that you're thirsty? Here's a coupon for smart water. Low on vitamins? Flash this for $1 off your favorite vitamin-loaded juice product. Serotonin levels down? Grab yourself a free soda and open happiness.
On social media:
As social media becomes more and more fundamental to the way we receive information and interact with friends and family, consumers want wearable technology to offer unobtrusive anytime/anywhere access to their favorite networks. This is especially true of Millennials, who were three times as likely as the general population to list real-time social media updates as an important benefit of wearables.
On retail:
Wearables also have the potential to integrate the at home, on-the-go and in-store shopping experiences. Through both active and passive cues—say, a wearable that listens to what media you watch, and enables you to "like" what you hear—wearables can track a shopper's preferences, and then connect the dots real-time when a shopper enters the store, creating what The Home Depot calls "interconnected retail."
So many Cassandras
So how do regular people feel about all this? Not great. Asked "How do you feel about the future of wearable tech as part of everyday life?" 59% of respondents in PwC's survey said they were concerned. Here's a breakdown of their worries: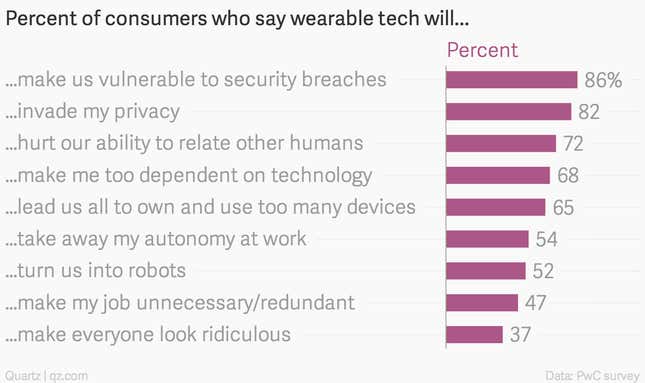 This shouldn't be surprising. PwC suggests two possible futures: a "wearable utopia" and a "wearable dystopia." Try and work out which one this is (and check the annotation if you really can't figure it out):
Farrah Wilson opened her eyes on the first day of 8th grade feeling nervous and excited. She had just finished another night of perfect slumber—one hour of light sleep, six hours of REM—regulated by a smart eye mask, which used sono technology to lull her into an easy dream state…. Downstairs, a nutrient rich protein shake was waiting for her—Farrah's mom, Lara, had already gotten a report that she was a little low on iron and calcium that morning…As Farrah moved through her day, school assignments loaded automatically onto the Personal Organizer hub of her network, viewed with a quick swipe of her glasses…That night the Wilsons sat down to dinner, each eating a meal optimized by health reports from their wearable devices, and shared snapshots they'd taken throughout the day.