American attitudes towards marijuana have undergone a pretty radical shift. The country has gone from the heavy, anti-drug messages of the 1980s and early 1990s, to legalization for medical purposes, to wholesale legalization in several states. Recreational use is now legal in Colorado and Washington, and 24 out of 50 states have made it either legal in one form or another, or have decriminalized its use.
Put this down to a wholesale transformation of public opinion. According to a dataset put together by the Pew Research Center, the turning point came in 2013, after years of increasing support for legalization: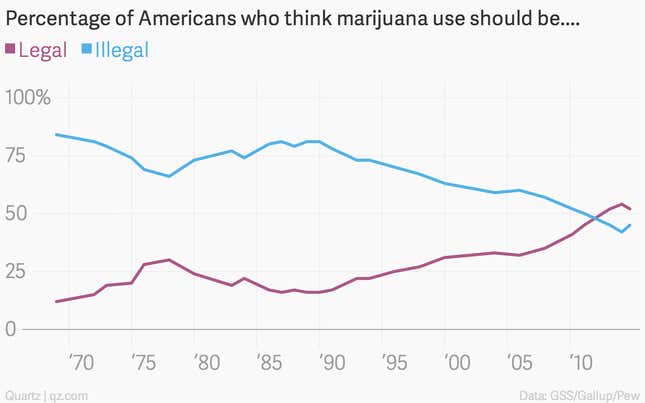 Generational data provides a sense of how it happened. While older generations either never did or have been slow to come around, boomers have transformed their views radically, and more than half of Gen X is in favor of legalization. And ever larger parts of the population are being supplanted by millennials, who tend to be highly in favor of legal marijuana.
Over time, support for legalization looks likely to keep growing: