Wall Street is giving Twitter a hard time—shares are down 8% in after-hours trading—as its user growth continues to slow. Twitter reported 281 million monthly active users (MAUs) at the end of the third quarter, up 23% year-over-year. But user growth is slowing: Twitter's 13 million additional MAUs last quarter is its second-lowest total in two years.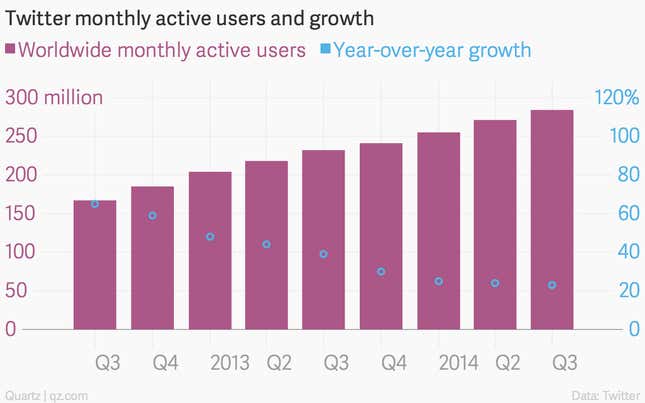 But here's something worth considering: Twitter—Twitter!—is going to generate more than $1 billion in ad revenue this year. Even when Bloomberg first reported this possibility in early 2013, it seemed far-fetched. But it's happening.
This remains an impressive feat for a company that was the butt of business jokes for years. Specifically, Twitter says it expects to generate about $1.37 billion in total sales this year, including its fast-growing data licensing business. Three quarters in, it's already at $924 million in total revenue and $824 million in ad revenue.
Twitter now generates $1.77 for every 1,000 timeline views, up 83% from the same time last year. That figure is $4.28 in the United States, up 66% from $2.58 a year ago.