Chivas USA beat the San Jose Earthquakes 1-0 in not only the last game of the season, but its last game ever. The US Major League Soccer club, which only ever managed to attract about 7,000 fans per game, ceased to exist earlier this week. A replacement club will launch in 2017 with a new team, a new soccer stadium in California, and new ownership that reportedly includes Batman and Rain Man producer Peter Guber, venture capitalist Henry Nguyen—and Malaysian businessman Vincent Tan.
Tan may not be familiar to American sports fans but he is a fixture of the English Premier League, and perhaps the most entertaining owner in world soccer—and with people like AC Milan owner Silvio Bersculoni and Leeds's Massimo Cellino around, that is really saying something. By way of introduction, here are some highlights of Tan's involvement in the sport.
Colors and controversy
In 2010, Tan bought the Welsh club Cardiff City. Fans were proud of the long history of the club, especially the color of its kit—the team was nicknamed the Bluebirds. So what did Tan do? He changed the club color to red and changed the crest from a bluebird to a Welsh dragon. Fans were outraged—they held up signs saying "Dictator Tan, Go Home" and one newspaper branded him the most hated man in Wales.
Tan justified the decision as a way to tap into fans in the lucrative Asian market as he pumped millions into the club in a push to take the team into the Premier League. "In Asia, red is the colour of joy, red is the colour of festivities and of celebration. In Chinese culture, blue is the color of mourning," he said. "You look at Man United and Liverpool and they are red—they are much more successful and have a bigger fan base than Chelsea or Manchester City." (Confusingly, the British press still often refers to Cardiff as the Bluebirds.)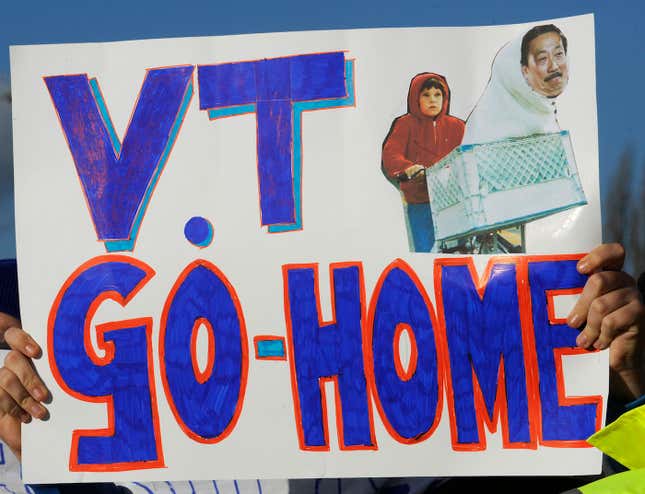 Keeping with the theme, Tan also wanted to rename the team the Cardiff Dragons and also sell the naming rights to the stadium to Malaysian Airlines. So far, nothing has come of that. Tan said: "If you put in a lot of money, surely you have the right to make a call on some things you believe will make it better. If you don't have a say, why the hell do you want to put in so much money?"
Defending his style
Cardiff did eventually win promotion to the Premier League last year and the future looked rosy. In Malky Mackay, many outsiders felt that Cardiff had one of the best young managers in the game, and the team had spent tens of millions on new players. Then things began to unravel behind the scenes. In October 2013, Tan fired Iain Moody, his head of recruitment, and replaced him with a 23-year-old Kazakh intern who is friends with Tan's son. Alisher Apsalyamov didn't last long in his job—he was denied permission to work legally in the UK as he had no experience.
Tan also was becoming famous not just for his boardroom antics, but his fashion sense. He has a tendency to wear dark sunglasses and leather gloves to games, as immortalized by this bachelor party:
Tan pushed back against his image as a Bond villain, arguing it was all because he was a foreigner. "I wear sunglasses because of the glare of the spotlights," he told the BBC. "I wear gloves because it is very cold in the UK. Frankly, sometimes I think they are nuts making all these comments. Sometimes the British press is maybe a little bit racist."
And Tan vowed to stick around. "Unless the fans really piss me off so much. Then I may leave."
Managing the managers
With Moody out by October, it was clear that the manager, Mackay, was a dead man walking as the team languished. Rumors abounded that he was about to be sacked, which duly happened in December, with Tan accusing him overspending in the summer transfer window by 40%.  Mackay took legal action against Tan and the situation rumbled on quietly until May, when Mackay suddenly and surprisingly dropped his suit against Tan and apologized to him unreservedly.
The situation seemed to be over, until Mackay was in the running for another job earlier this summer. His appointment was imminent—until thousands of offensive text messages between Mackay and Moody were leaked. Mackay allegedly called Tan a "chink" in one; in another referred to an agent with the words, "Go on, fat Phil. Nothing like a Jew that sees money slipping through his fingers." Many of the texts referred to the race of the players they were planning to sign.
Both men apologized but the damage was done. Mackay did not get the job. Tan denied that the texts were timed to deny Mackay the job but said he had no sympathy for the manager. "I don't have a personal vendetta. I want to clear my image. I am not a madcap owner that the world thinks I am." Still, it's on the pitch where it matters, and Cardiff's next manager, handpicked by Tan, failed to keep Cardiff up. The team was relegated to a lesser league after one season. Tan's Cardiff are currently 11th out of 24 teams, and hope to be back next season—now with yet another manager.
If Tan is half as adventurous in the US, then MLS fans are in for a heck of a ride.