Behind the counter of his fluorescent-lit shop, Mahmoud Gharbi, 28, moves rapidly, trading fried bread and Algerian cigarettes for coins in the palms of customers. Gharbi graduated in 2010 with an advanced degree in computer science, and hasn't been able to find a job in his field since. There is little demand for people with his skills in Sidi Bouzid, a largely rural interior province where the uprising that ousted Tunisia's autocratic president exploded almost four years ago, setting off the Arab Spring.
"There's no difference in the economy before the revolution and now. In fact, marginalization has gotten worse in Sidi Bouzid," Gharbi says.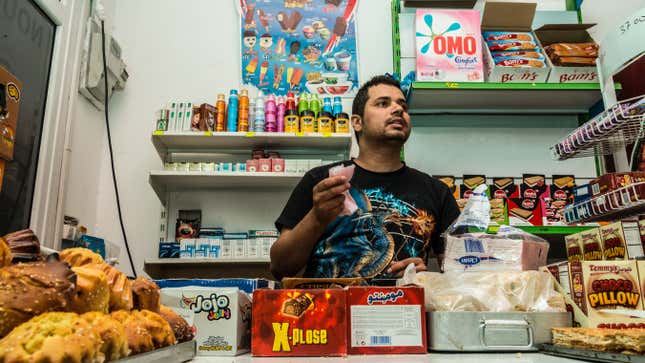 On Sunday (Nov. 23), Tunisia held a presidential election. At one level it, like the parliamentary election in October, was a great success. Both votes were peaceful and turnout was respectable. In October the Ennahda party, which had been the first Islamist movement in the region to win power after the Arab Spring, became also the first to lose a ballot and calmly accept defeat. Nidaa Tounes, which won the parliamentary poll, also fielded the leading presidential candidate, and though it didn't carry yesterday's election outright, it looks set to win (paywall) the run-off vote in December.
Yet no party has well-defined policies to fix the continued economic stagnation. "There's been enormous change in Tunisia when it comes to the political process. When it comes to the economy, though, not much has changed," Antonio Nucifora, former lead economist for Tunisia at the World Bank, tells Quartz.
A government of hangers-on
As the World Bank explained in a recent report, The Unfinished Revolution, the economy has deep structural weaknesses that were at the root of the 2011 uprising. In the 1960s and 70s, Tunisia was a largely rural society with little manufacturing, and it needed easily available, low-skilled jobs. "At the time, it didn't matter where those jobs were located," Nucifora explains. "Anyone could come in and set up shop for exporting businesses. So naturally they did that in coastal cities with ports and airports."
The government encouraged this export-led economy. "The economic incentive codes, over a period of 20 years, have resulted in 84% of [new] jobs being created along the coast," Nucifora says. That led to regional disparities, with more jobs and infrastructure on the coast and a dearth in Tunisia's interior.
To keep out foreign competition, the Tunisian government protected domestic businesses by giving them large, interest-free loans, without strict rules for repayment. In sectors like telecoms, where a few huge state-supported firms dominate, profitability is low but so is competition. State subsidies and government contracts fostered cronyism and vested interests. President Zine el Abidine Ben Ali's ruling clique grew tremendously wealthy, and tremendously hated by poor Tunisians.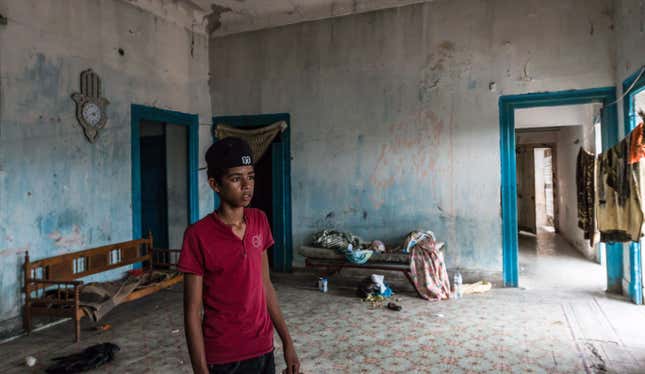 Though Ben Ali and his family fled in the wake of the 2011 uprising, much of the old system was left intact under Ennahda's rule. "All of these pieces of the vested interests—the people from the onshore [domestic] companies, the offshore [exporting] companies, the private sector, the administration—came to a consensus that now isn't the time to change the investment code," says Nucifora.
However, the victory for Nidaa Tounes doesn't inspire much hope of change. The party is dominated by a secularist elite that includes hangers-on from the Ben Ali days. The likely new president, Béji Caïd Essebsi, is an 87-year-old who held several senior jobs in the 28-year-long regime of Ben Ali's dictatorial predecessor, Habib Bourguiba.
An economy stuck in the past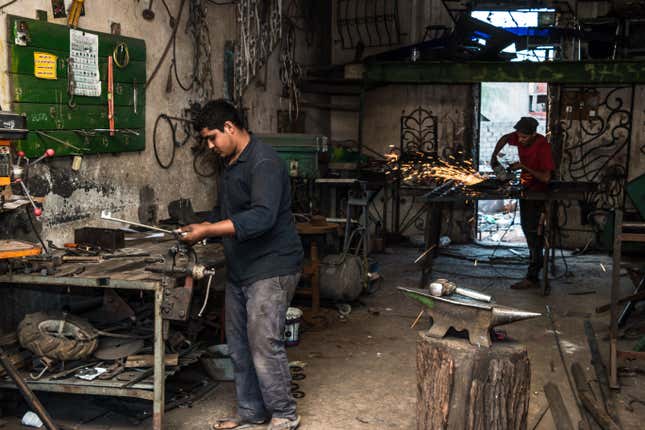 Youssef Gaigi, an entrepreneur who came back to his native Tunisia in the wake of Ben Ali's ouster, says that bribery and dense bureaucracy are making it difficult for small businesses like his to succeed. In 2011, Gaigi founded Tunisia Live, an English-language news website. It needed licenses from the government's Ministry of Culture, which can take months or years to obtain. "Everything here requires a license, which doesn't only stop free enterprise," he added. "It creates a point of contact from which to extract money later."
The regional disparities also make it hard for small business owners to survive outside the coastal trade and industrial hubs. A new constitution passed in January says the government has a responsibility for developing the country's neglected interior. But, noted a report last summer (pdf) by the Konrad Adenauer Stiftung, the German political foundation and development agency, "putting flesh on the bones of the newly created constitutional framework" has yet to be done.
Among the things the new government needs to tackle, Nucifora notes, is the bureaucracy confronting offshore firms that want to reach the rest of Tunisia. He recounts a story of an offshore technology company that has to wade through some 40 official documents and three to four weeks of waiting in order to ship products to the south of Tunisia, cutting into profits as much as 20%.
Next on the agenda are regulatory hurdles. The World Bank's report notes that "the heavy regulatory burdens cost the private sector approximately the equivalent of 13 percent of revenues, and the room for discretion in their implementation opens the door to corruption and cronyism." That means small businesses can't grow unless they have connections.
Back in Sidi Bouzid, workers and business owners say that these disparities make it next to impossible for them to carry on. "Investors have fled," said Gharbi, the store owner." You have to know somebody in the administration to get your papers approved if you want to open a small business." He was only able to open his store with money from his father.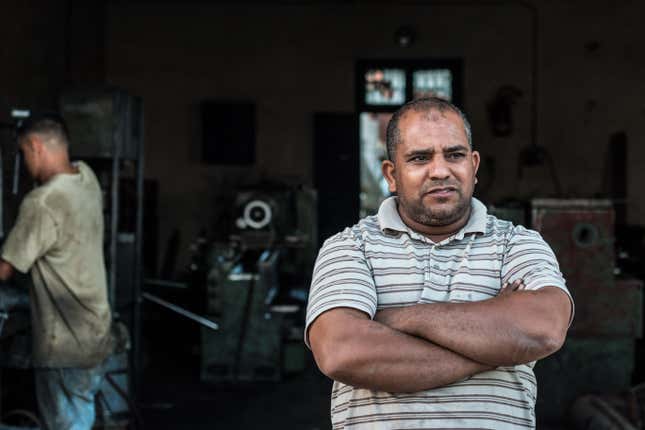 Ibrahim, who owns a car repair shop and asked that his last name not be used, said that industrial materials he needs couldn't be found in Sidi Bouzid. Instead, he has to drive several hours to the coastal cities of Tunis, Sfax, or Sousse to get parts. "Do you know how much money we've brought in so far today?" said Ibrahim outside his shop as the sun set. "Seven dinars [less than $4]. And today's a normal day."
Chahi, an elderly retiree, chimed in that if a new government doesn't follow through on its promises, there could be unrest again. "The past four years, the [politicians] have made promises and more promises. If they don't fulfill them, while we have hunger and no jobs here, the people could rise up. And I would join them."
Follow Sam Kimball on Twitter @SamOnTheRoad and Nicholas Linn @NicholasJLinn.