HONG KONG—Hong Kong's Occupy Central, which vowed to bring the city's financial center to a standstill if demands for democracy aren't met, hasn't quite done its job. The World Bank says that despite the pro-democracy protests, Hong Kong is still the world's third-best locale to do business.
The ranking puts Hong Kong just behind Singapore and New Zealand, and contradicts the dire warnings by Chinese and Hong Kong officials that the protests are putting the economy at risk.
"Right now, the pro-democracy campaign does not appear to have an impact on the overall business confidence," the World Bank's Wendy Werner told the South China Morning Post. Only if the protests began to affect transparency or rules on registering property and trade would the business environment be affected, she said.
The impact of the so-called Umbrella Movement, whose thousands of demonstrators have blocked off three major roads in commercial and shopping districts for the past month, has so far been minimal. Tourism to the city actually increased. Only one of 15 economists surveyed by Bloomberg has lowered their Hong Kong GDP forecast for the year. And Hong Kong's Hang Seng index was world's second-best performing index in October.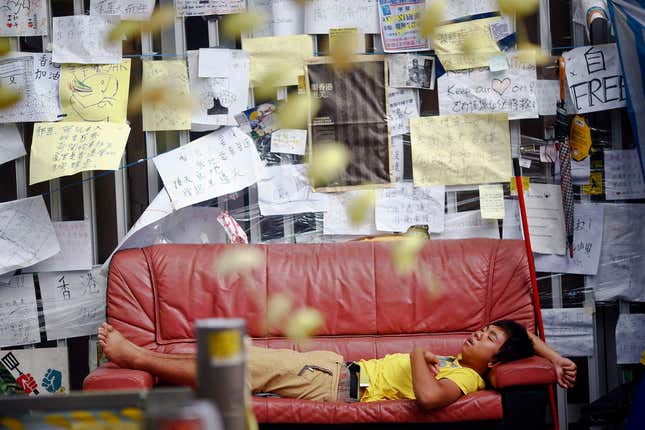 Still, many economists say the potential fallout depends on how long the protests continue, and some retailers say they are already feeling the pinch. Vincent Chow manages Chow Sang Sang, a Hong Kong jeweler with stores in Mong Kok and Causeway Bay, where two of the biggest protest sites are situated. He says the chain has lost 350 hours of business, and sales dropped possibly as much as 10% last month compared to the year before. A hotel in Mong Kok was only at half occupancy for most of October.
And the fact that the protests haven't had a more dramatic effect onthe city's economy may ultimately be bad news for the protesters, who have been using their occupation as leverage to demand a reversal of Beijing's August decision that only candidates essentially vetted by Beijing can run in the city's first direct elections in 2017.
Watching the protesters gather on Tuesday night in Admiralty, the main protest site, to mark one month since the protests began, supporter Nicole Kong, 29, said, "My concern is that people are used to it. It is losing its impact. People just leave 15, 20 minutes earlier to go to work."