HONG KONG—A British citizen who recently worked at Bank of American Merrill Lynch was charged in Hong Kong today with the gruesome murder of two women. The victims were found dead in his Wan Chai apartment, one of them in a suitcase that the banker left on his balcony.
Sumarti Ningsih, the first victim, was a 25 year-old Indonesian, who was in the city on a 30-day visitors permit that expires today, the Indonesian embassy in Hong Kong told Quartz. The second victim, identified by local media as Jesse Lorena, was also from Indonesia and had worked as a domestic helper in Hong Kong, according to The Standard, which cited a friend and an Indonesian union leader of a local migrant alliance. She was a "regular face" in the Wan Chai district's bars, and has been building a home with her Hong Kong earnings in Indonesia, The Telegraph reported.
The second victim's identity has not been officially confirmed by the Indonesian embassy and local police. But the two women appear to be part of Indonesia's diaspora of more than 5 million overseas workers, mostly women, who work both officially and unofficially outside the country.
About 700,000 documented Indonesians leave the country every year looking for overseas employment, and the number of undocumented workers going abroad every year could be two to four times as high, the International Labor Organization reports. About three-quarters of the documented migrants are women, most of whom work as domestic helpers, sending back about $7.6 billion a year to Indonesia, according to the government's overseas workers bureau: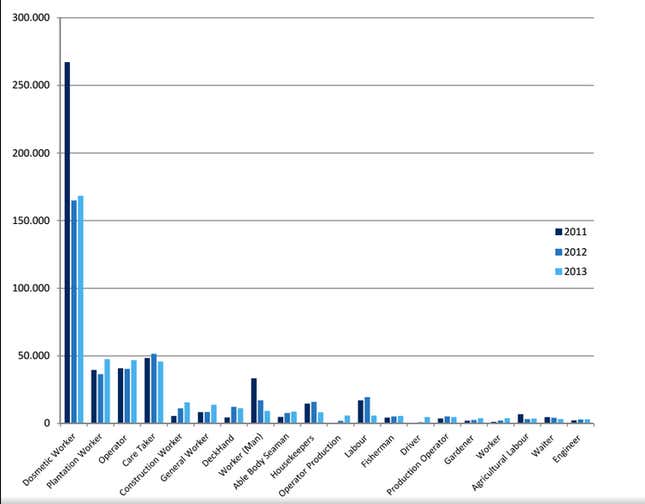 Hong Kong is a top destination. Indonesians make up nearly half of Hong Kong's 320,000 domestic workers, and the vast majority of them are women. The city has a vocal community of Indonesian workers who recently rallied, for example, after an Indonesian maid was abused by her local employer.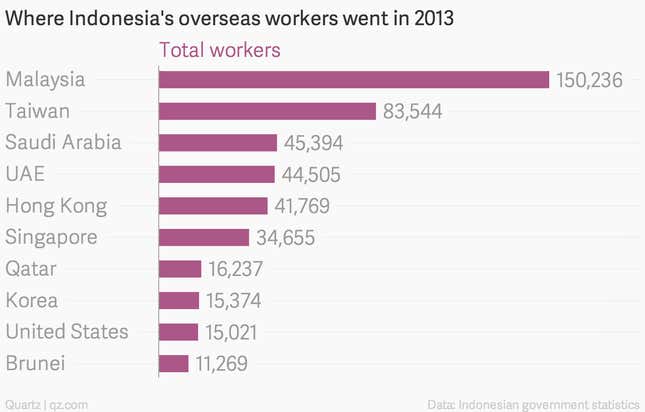 But these women are also particularly vulnerable to abuse from employers and predatory Indonesian and Hong Kong recruitment agencies, as the US state department noted in 2008 and Amnesty International wrote last year:
Prospective migrants are promised good jobs with lucrative salaries, but are not properly informed about the large fees they will incur during the recruitment process or the lengthy mandatory pre-departure training they will have to undertake. Many find on arrival in Hong Kong that their jobs and terms and conditions are not what they were promised.
These recruitment agencies "operate similar to trafficking rings," Humantrafficking.org reports. To pay off high debt or just make some extra money, some women who work in Hong Kong as domestic helpers here also have a part-time job on the side—whether it's direct sales of makeup or clothes, working in some of the city's bars and restaurants as wait staff, or as part of the city's growing unregistered sex trade.
Indonesians are permitted to visit Hong Kong for 30 days without a visa, but some of these arrivals are believed to be women working illegally on visitor visas. About 377,000 Indonesians visited Hong Kong in the first nine months of this year on tourist visas, a 1.2% increase from the year before.
Local media initially reported that the two murdered women were sex workers, citing sources in Wan Chai, which is Hong Kong's red light district, but Hong Kong police have not made public any concrete evidence. Prostitution is legal in Hong Kong, as is advertising sex services on websites and in newspapers, but only on a "one woman brothel" basis—individual women can charge for sex, but it is illegal for anyone to profit off the prostitution of others.