America has long prided itself in being a global hub for businesses and entrepreneurs. That pride, it turns out, may be losing its gusto, according to the World Bank's 2015 report on the best places to do business.
On the World Bank's rankings, which account for a wide array of factors that contribute to business efficiency (such as time required to get business permits and protection of minority investors), the US fell to seventh place. Asian countries dominated the top of the list, taking three of the top five slots.
Here is the top 10 list of best places to do business, according to the report:
1. Singapore
2. New Zealand
3. Hong Kong/China
4. Denmark
5. South Korea
6. Norway
7. United States
8. United Kingdom
9. Finland
10. Australia
The US has been declining in the World Bank's rankings for years, in part because the World Bank has been tweaking its methodology to be more accurate. The country has also been losing steam in other reports related to the ease of doing business, such as rule of law, corruption, and red tape. "Crony capitalism used to be what Americans complained about in Asia. No longer," Harvard historian Niall Ferguson has written. Now many Asian countries are beating the US on this measure.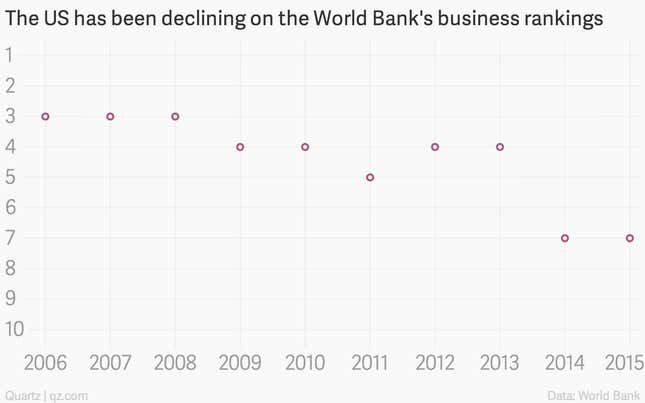 Meanwhile, many poorer countries on World Bank's list made significant strides. Five of the 10 most improved countries are located in Sub-Saharan Africa.
Here's the World Bank's listing of the 10 countries that improved the most since their last ranking:
1. Tajikstan
2. Benin
3. Togo
4. Ivory Coast
5. Senegal
6. Trinidad and Tobago
7. Democratic Republic of Congo
8. Azerbaijan
9. Ireland
10. United Arab Emirates