LOS ANGELES—Virtual reality is going through a renaissance, and Hollywood is taking notice. In Los Angeles, the entertainment industry is starting to try out the technology—led by Facebook's Oculus VR, Sony, Google, and Samsung—and is beginning to create VR content.
One such company, New Deal Studios, has spent the past few months making several 360-degree short-length films that can be viewed through virtual reality headsets like Samsung's upcoming Gear VR. The studio—known for doing visual effects on hit films like "The Dark Knight," "The Avengers" and "The Wolf Of Wall Street"—believes virtual reality is the next step for entertainment, and wants to become an early leader in that field.
To make these films, New Deal Studios has partnered with Jaunt VR, a Silicon Valley startup that created a camera capable of capturing 360-degree live-action audio and video. Jaunt then uses its own software to stitch the footage together, making it fit for virtual reality headsets, on which users can turn their heads and see action all around them.
How it's made
Creating live-action virtual reality content starts with Jaunt first calibrating its camera before each shoot. The cameras, about the size of a Roomba vacuum cleaner, each feature 16 lenses pointing in every direction.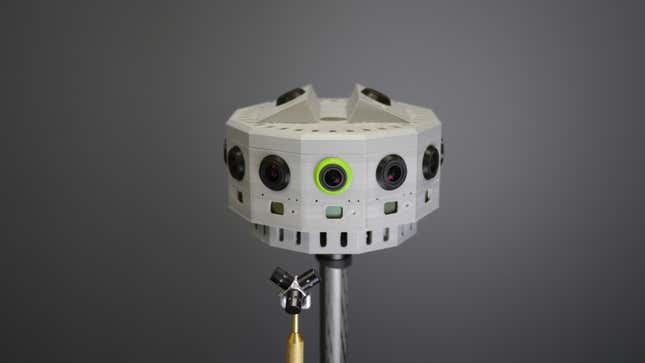 Each lens has a 120-degree field of vision and records 60 frames of video per second at 1080p HD. Jaunt makes sure that each lens lines up with its neighbors correctly so the 360-degree effect works. The camera also features an ambisonic microphone that captures a sphere of sound. Once the camera is calibrated, filming can begin. One interesting wrinkle: Because it's shooting all angles, it's trickier to hide parts of the set that most movies don't show, such as lighting and crew members.
Recently, Jaunt's team flew to Los Angeles for its latest project with New Deal Studios: "Kaiju Fury," a virtual reality film about two giant monsters fighting in the middle of a city in the style of a classic Godzilla movie. The companies invited me on set, where I saw an actor squeeze into his monster costume as the crew positioned the Jaunt camera on a dolly to capture the coming fight, which would take place in the middle of a miniature-sized city.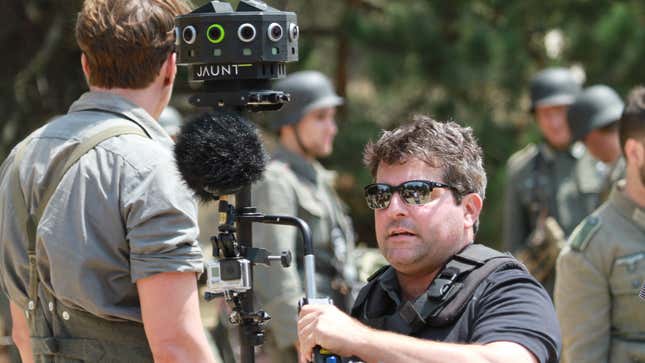 After shooting a scene of a street explosion, the film's director went over to the Jaunt crew to get an idea of what the footage looked like. For every minute captured by the camera, Jaunt's software takes 10 minutes to create a low-resolution, preview version of what the footage will look like in a virtual reality headset, allowing it to be reviewed on set. The director put on an Oculus Rift headset, saw the rough recording and got a sense of what the scene was still missing.
After filming ends, the footage is put through Jaunt's technology and rendered to create a high-quality version. Jaunt's algorithms ensure that the footage from the 16 lenses are blended together so they appear like they were all captured by a single lens. The software also positions the imagery so it is correctly displayed to each eye when viewed on a virtual reality headset. It also lines up the audio so that listeners will hear each sound from the same direction it was interpreted by the ambisonic mic.
Once this is finished, Jaunt delivers the high-quality files to filmmakers so they can go in and do the post-production work necessary for any movie. The movie makers can edit and add effects using readily available software like Apple's Final Cut Pro X.
What it's like to watch
While on set, Jaunt gave me a demo of some of its work. I strapped on an Oculus Rift headset and was transported to an empty pool where a BMX cyclist performed tricks all around me, ring-side to a professional boxing match, and on stage with the DJ at a music festival. And finally, the virtual reality brought me to the middle of a 1940s war zone in the trailer for "The Mission," another one of Jaunt and New Deal Studios' short-length films. The whole experience felt like teleportation. In real life, my head was turned toward a crew member, but through the Rift, I saw confetti blasting into a crowd of music ravers.
It was impressive but still raw. During the trailer for "The Mission," there was simply too much action happening around me. Shots would be fired, but by the time I turned to look, the action had ended and the scene had changed. The video quality was also not up to par with the HD quality consumers have become accustomed to. These are the growing pains that Jaunt, New Deal Studios and other filmmakers are going through as they create virtual reality content.
The first consumer-grade virtual reality headsets are expected to hit the market as early as this holiday shopping season, and the filmmakers understand the importance of having content ready from the get-go. New Deal Studios is hoping to release both "The Mission" and "Kaiju Fury" before the end of 2014, while Jaunt plans to release an app for PC, Mac, and Android where viewers will be able to access content created with its technology.
Salvador Rodriguez is a Los Angeles-based writer. Follow him on Twitter at @sal19.