Buried within Tesla's latest letter to shareholders are two sentences that tell you everything you need to know about its CEO, Elon Musk, and his approach to business.
[W]e prefer to forgo revenue, rather than bring a product to market that does not delight customers. Doing so negatively affects the short term, but positively affects the long term. There are many other companies that do not follow this philosophy that may be a more attractive home for investor capital. Tesla is not going to change.
It is the kind of statement that could send investors in many companies running for the exits. But Tesla is no ordinary company and its shares are up nearly 5% in after hours trade.
The electric car maker's quarterly results were stronger than expected,  but the company also cut its full-year forecast for deliveries of its flagship Model S by as much as 7% and said it now doesn't expect to start selling its SUV, the Model X, until the third quarter of 2015, a few months later than previously anticipated.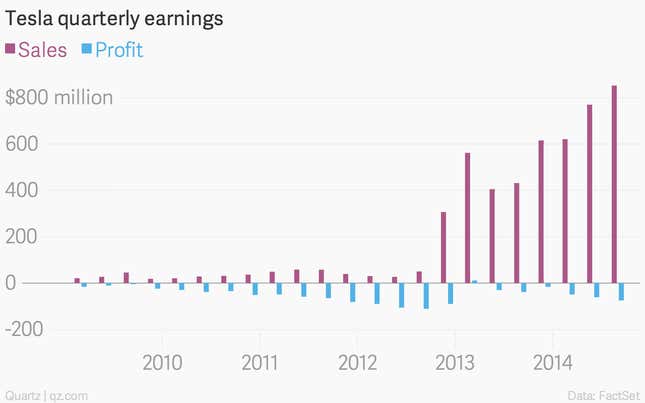 "Being unable to increase production fast enough, not lack of demand, is a fair criticism of Tesla," the letter states. Evidently, the company prefers not to rush out a product that is not excellent. And as we've argued previously, these high standards are reminiscent of Steve Jobs. Which did wonders for Apple, and is not doing Tesla any harm either.