Chinese government officials are huge buyers of ivory in Tanzania, according to a report from a London environmental group, and are partially responsible for the country's decimated elephant population. Officials were so brazen that they allegedly loaded ivory into diplomatic pouches on the presidential plane carrying Xi Jinping during a 2013 visit.
Two weeks before president Xi Jinping's state visit to Tanzania last year, "Chinese buyers began purchasing thousands of kilos of ivory, later sent to China in diplomatic bags on the presidential plane," two traders told the Environmental Investigation Agency (pdf, pg. 23). Diplomatic pouches and official state aircraft are not subject to the same security and customs checks that apply to most travelers.
Xi's entourage on the Tanzania trip, according to the Chinese government, included just four people:
His wife Peng Liyuan; Wang Huning, member of the Political Bureau of the Communist Party of China (CPC) Central Committee and director of the Policy Research Office of the CPC Central Committee; Li Zhanshu, member of the Political Bureau of the CPC Central Committee, member of the Secretariat of the CPC Central Committee and director of the General Office of the CPC Central Committee; and State Councilor Yang Jiechi.
Officials traveling with the president aren't the only ones accused of smuggling ivory out of Tanzania. During a four-day "goodwill visit" by a Chinese naval task force in December of 2013, one Tanzanian dealer boasted he made $50,000 in sales to the visiting military. During the same visit Chinese trader named Yu Bo was detained (pdf pg. 21) with 81 tusks he was trying to deliver to "mid-ranking naval officers." Yu was sentenced to 20 years in jail.
"A toxic blend of governance failures, corruption and criminality" are ultimately responsible for the poaching of Tanzania's elephants, the Environmental Investigation Agency said. The population has fallen by 50% in seven years: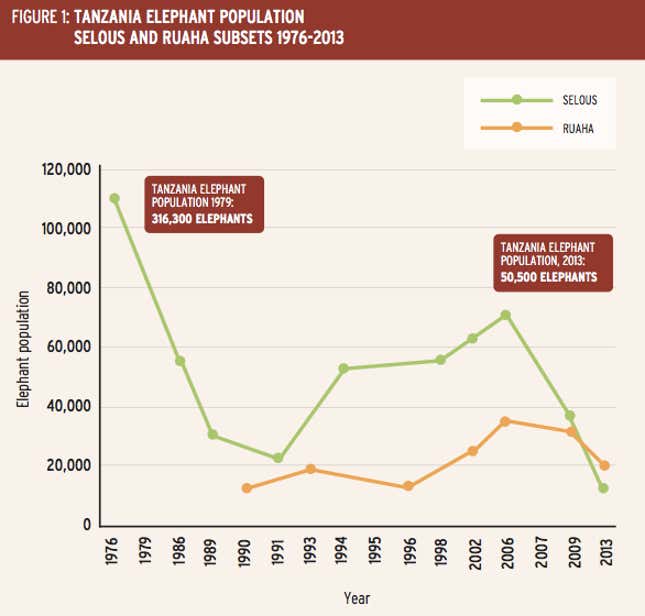 The report lays as much of the blame on local government as it does on Chinese demand. Eight different instances in which smugglers, traders or buyers have been caught with 26.5 tonnes of ivory, accounting for nearly 4,000 dead elephants, have resulted in just one conviction so far.
A senior Chinese official refuted the report, said he had never heard of the jailed ivory trader Yu Bo, and called the EIA a "dodgy organization" in an interview with The New York Times. Meng Xianlin, the executive director general of China's endangered species trade authority, called the group "highly irresponsible" for "spreading rumors and damaging China's image without any evidence."
Earlier this year, China's ambassador to Tanzania publicly bemoaned his countrymen's lust for illegal ivory, complaining that Chinese nationals were smuggling ivory out of Tanzania in the hoods of cars and even their undergarments. Yu's sentencing has been widely reported by international news agencies like the AFP.