It looks likely that US airports will be a little busier this holiday season. The Thanksgiving rush will amount to 24.6 million passengers traveling on US-based airlines during the 12-day period including the holiday, according to a forecast by Airlines for America, an industry trade organization representing the biggest US air carriers. That's a 1.5% increase from the 24.2 million estimated Thanksgiving air travelers last year. Around 10% of those travelers will fly internationally.
Of course, none of this is set in stone. Last year, the organization's projections were too high by 3%, partly because of bad weather (paywall) and flight cancellations.
The busiest travel day for the holiday is expected to be Sunday, Nov. 30, with about 2.6 million people flying on US airlines. The lightest travel day will be Thanksgiving itself, Thursday, Nov. 27, according to estimates.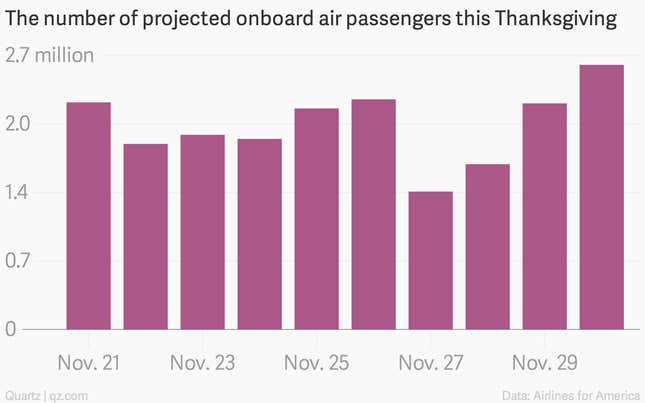 Projections also ranked the busiest airports during the season. In order, the busiest airport will be Atlanta, followed by Los Angeles, Chicago, Dallas/Fort Worth, New York's John F. Kennedy International Airport, Denver, San Francisco, Phoenix, Charlotte, and Houston's Bush Intercontinental.
But this doesn't necessarily mean your Thanksgiving weekend flight is going to be more cramped. Airlines add capacity around busy times, and with their new robust profitability thanks to low fuel costs (an airline's single greatest expense), they'll be reinvesting money into adding back seats and improving amenities, the organization said. With the exception of April and May, airlines have added more capacity each month than the year before. As of November, US airline capacity, which is measured by available seat miles, is up about 2.13%, according to schedule data collected by Planestats.com.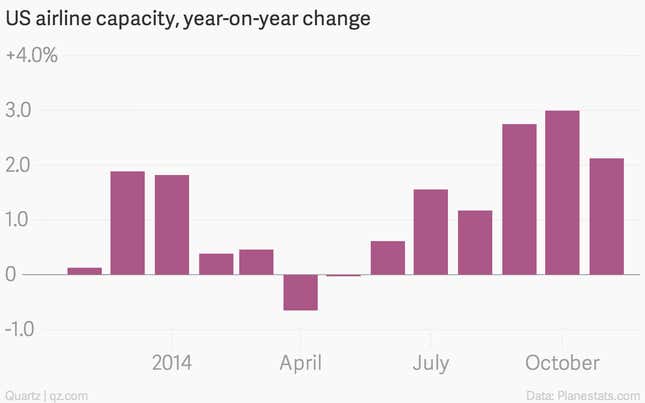 Domestic and international air travel on US carriers has been up almost every month this year (through July), according to the latest available data from the Bureau of Transportation Statistics. The nine biggest US airlines (Alaska, Allegiant, American, Delta, Hawaiian, JetBlue, Southwest, Spirit, and United), posted net earnings of $6.8 billion during the first nine months of this year, up from the $4.5 billion from the same period last year. That has resulted in a profit margin of 5.7%—the highest since all the way back in 1999.