Prime minister Narendra Modi is arguably the most powerful Indian in the world right now. He made his debut on the Forbes magazine's power-ranking at number 15 last week, and is the only Indian in the top 20.
But, when it comes to Twitter, he has lost top honors. According to an analysis performed by digital marketing firm Pinstorm, the most influential person living in India is Tibetan spiritual leader the Dalai Lama.
The Dalai Lama is the most influential tweeter from India, followed by the Indian prime minister, even though the former isn't as active a social media user as Modi.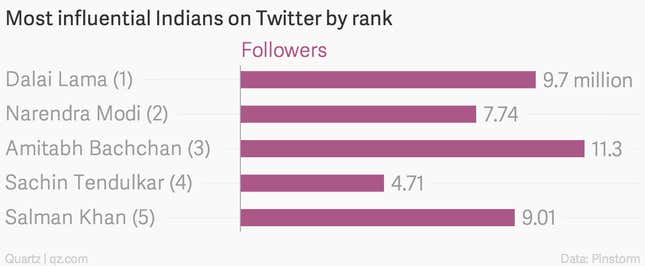 The rankings are based on not just the number of followers a person has, but also his or her ability to drive a conversation online.
The Dalai Lama has sent out just 1,059 tweets since he joined Twitter in 2009. Modi tweets multiple times a day and has sent out more than six thousand tweets so far. His tweet after winning the general elections remains the most retweeted tweet of all times in India.
Still, with his 9.68 million followers, the Nobel Peace Laureate unseated Modi from the number one position on Nov. 3 and has held the top spot for seven consecutive days, Pinstorm's analysis shows.
Pinstorm is a online marketing company with offices in India, US,  Singapore, Malaysia and Switzerland. The company came out with its first list of top Indian influencers on Twitter in 2011 and currently analyzes the activities of around 5000 Twitter handles. It updates the list daily.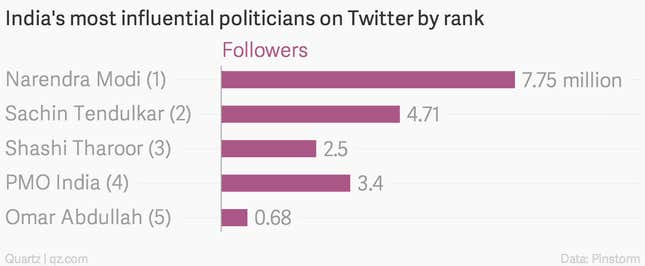 Modi—with 7.76 million followers—is the most popular Indian politician and the fifth most-followed world leader on Twitter. He is followed by former cricketer and member of India's upper house of the parliament Sachin Tendulkar who has 4.7 million followers. Shashi Tharoor, a member of the Congress party and an active twitter user, comes third.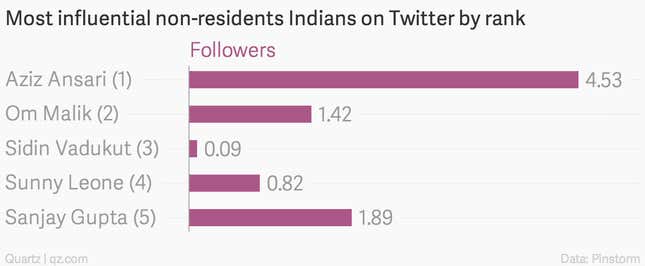 Aziz Ansari, an Indian-American actor and comedian, with about 4.53 million followers, is the most popular non-resident Indian on Twitter. He is followed by Om Malik, founder of a tech website Gigaom and author Sidin Vadukut.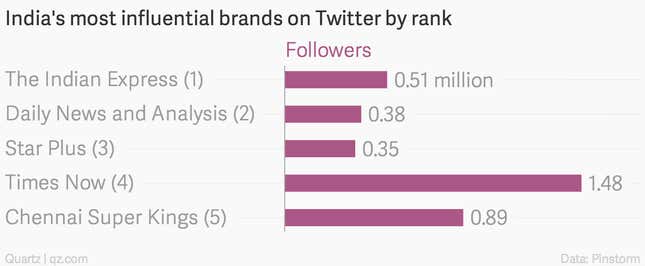 Among Indian brands, three of the top five spots are occupied by news media companies. English news daily The Indian Express occupy the top spot followed by Daily News Analysis. General entertainment channel Star Plus—with its 0.35 million followers— is third.
See the complete list here.