Stalin, Bulgaria, is now called Varna. Tajikistan's Stalinabad is now Dushanbe. Azerbaijan's Stalino has become Çaylı. In East Germany, Stalinstadt is Eisenhüttenstadt, and the former Stalino, Ukraine, is now Donetsk.
Throughout the former Soviet republics, Josef Stalin's name has been erased, his statues torn down—except in Georgia, where in defiance of national law and repeated official attempts at confiscation, Stalin statues keep popping back up.
"Stalin still has authority here, because he was Georgian," explains Nino Chutkerashvili, a filmmaker and native of  Tsromi, a central Georgian village. Chutkerashvili's 2014 documentary film, The Ruler, follows Tsromi's village elders as they argue whether or not to dismantle their own decades-old Stalin statue, an issue still undecided.
"In Tsromi," she adds, "the legend is that the son of the clergyman and Stalin even studied together in the seminary."
The better-known story of Stalin starts nearly 100 years ago, on Nov. 7, 1917, when Bolshevik soldiers invaded the Winter Palace at Petrograd. That evening, Stalin, Lenin and the rest of the Bolshevik Committee declared the Russian Socialist Federative Soviet Republic, a regime that would spread across 15 countries to become the USSR.
In this story, Stalin is remembered as perhaps the most evil man in history. Ethnic slaughter, forced starvation, political purges and the Gulag: an estimated six million civilians were deliberately murdered during Stalin's 20-year-rule, and an equal number died from hunger due to disastrous agricultural policies. When Stalin died in 1953, he had just authorized construction of four massive new prison camps in Kazakhstan, Siberia, and the Arctic.
The USSR tried to forget him as soon as possible. In 1956, Nikita Khrushchev gave the "secret speech" that launched a broad de-Stalinization campaign. In 1961, Stalin's corpse was quietly removed from its place of honor next to Lenin.
But in Georgia, Stalin is remembered differently. "In Georgia, Stalin is regarded more as a rebel," writes Lasha Bakradze, director of the Georgian State Museum of Literature,  "who came from a colonized nation, fought against the existing order, and broke the rules by rising to the top of a system led by Russians."
That version of Stalin, a romantic outlaw known as "Soso" or "Koba," cut his teeth as a bank robber, labor organizer, kidnapper and extortionist of the rich. He was arrested seven times by the Tsarist regime and escaped five, long before he went to Russia to take power.
Today in Gori, the town where Stalin was born, elderly Georgians still gather every year before the Joseph Stalin State Museum to celebrate their most famous compatriot's birthday.
The two-story museum was built in 1957 by the Georgian Communist Party and Gori Party Committee. Its sunlit halls hold an accumulated 60,000 pieces of Stalinabilia, from a table of his amateur meteorological observations to interactive maps of Soviet military strategy, a ratty green felt conference table from the Kremlin and Stalin's personal slide-rule. The curation is unapologetically reverent. In one hushed, dark room, Stalin's bust stands alone, encircled by white columns. The gift shop sells Stalin snow-globes.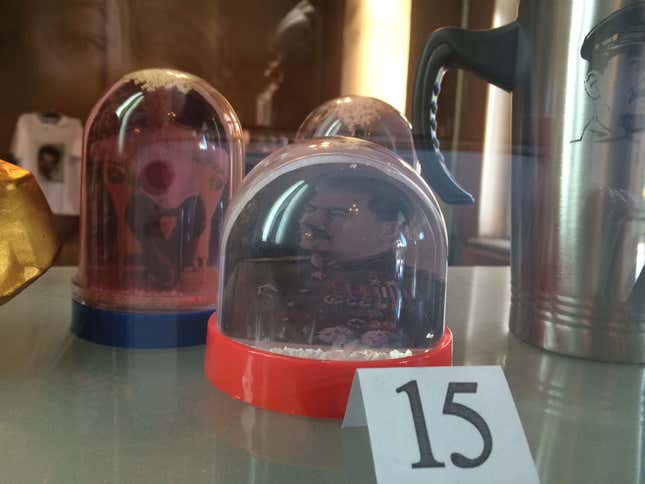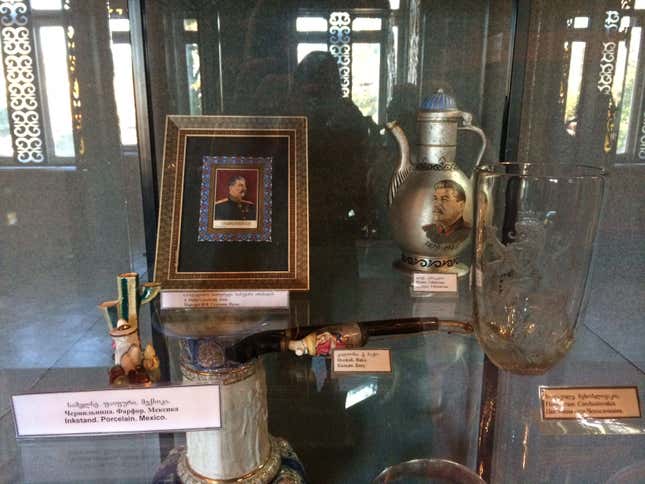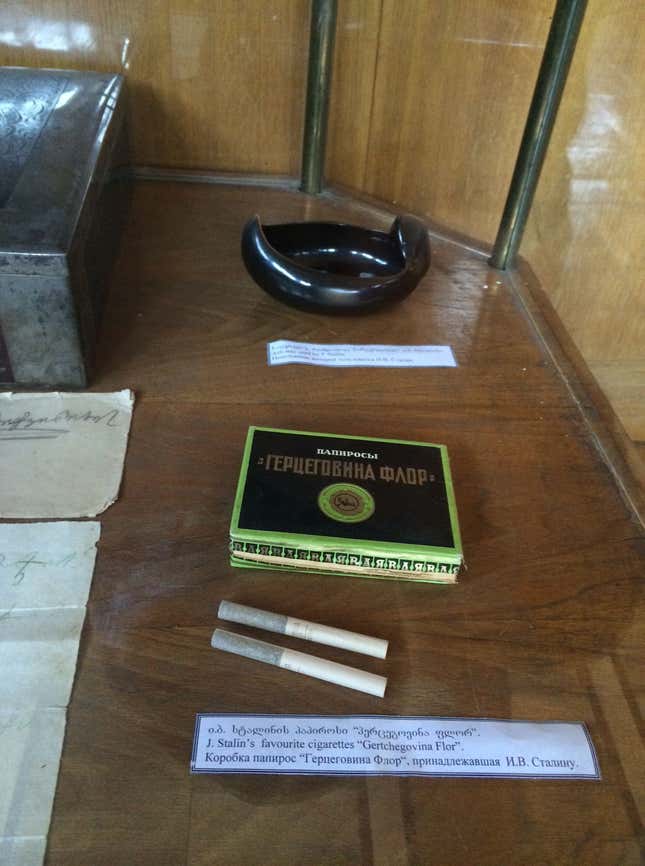 Outside stands Stalin's green private railcar (he was afraid of flying), and the wooden cottage in which he was born (now sheltered under a stone pavilion with hammer-and-sickle tiles). In the park, a life-sized alabaster Stalin looks on pensively.
Since Soviet symbols are forbidden for public display in Georgia, in June 2010, Gori city officials attempted to spirit away a 6m-high bronze Stalin from Gori's central square. They did it in the middle of the night and under heavy police protection. But residents immediately filed a petition to have it re-erected, and it now stands inside the Stalin Museum, less than 500m away from its original position.
"Restoring a Stalin monument in the 21st century is an unimaginable, barbaric, anti-Georgian, anti-national, anti-state act," pleaded ex-president Mikheil Saakashvili in 2010, to little effect. "Restoring Stalin's statue in Gori, the town which was bombed by Russians, amounts to spitting into the souls of the fallen Georgians."
"Our historical ideals should be people who tried to build a normal civilized country rather than bloodthirsty hangmen," echoed Giorgi Baramidze, then Georgia's minister for European Integration.
Their arguments went unheeded. Georgia's new Russia-friendly government, driven since 2013 by billionaire prime minister Bidzina Ivanishvili's "Georgian Dream" party, has since toned down the anti-Stalin rhetoric, announcing that it would not interfere with illegal statues.
Georgia was the first Soviet Republic to declare independence from Moscow. Yet today, 68% of Georgians describe Stalin as a "wise leader," according to a 2013 poll by the Carnegie Endowment for International Peace, even though only 13% of them would like to "live and work in a country ruled by a person like Stalin." In fact, half of them say they would "definitely not" like that.