This is part one of our holiday gift guide for your Quartziest friends and relatives. Collect all the installments here.
In the age of disposable fashion, it can be hard to find pieces that you reach for again and again—the essentials you tote along on practically every adventure. Buying them for others is an even trickier proposition, but when it works, the payoff is great: The gift of a go-to garment or accessory will make the recipient think of you warmly each time it goes on, introduce them to a new favorite brand, and make your loved one (and you) feel in the know. Here, we've compiled a list of fashionable, functional items for your favorite global traveler.
They're pieces that won't clutter a carry-on: trend-proof and tasteful upgrades with smart elements of surprise.
Gold standard sunnies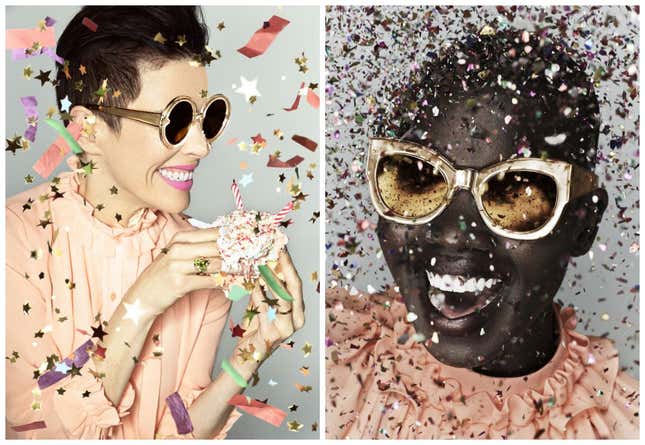 Karen Walker sunglasses, $286-$346
New Zealand-based designer Karen Walker's collections consistently reflect a wacky, fun, antipodean spirit—most notably in her eyewear. The exaggerated cat-eyes and oversized round frames sit just this side of stylishly batty; after the umpteenth compliment and knowing nod, the wearer will adjust. This season, Walker released her cult-beloved shapes in a limited edition of gold frames (above) to commemorate her tenth year of eyewear. For a more enduring look, we'd take these in tortoise or black. Note: Prices on Walker's site, which ships globally, are listed in $NZD and will convert to local currency upon checkout.

Nano-techy jacket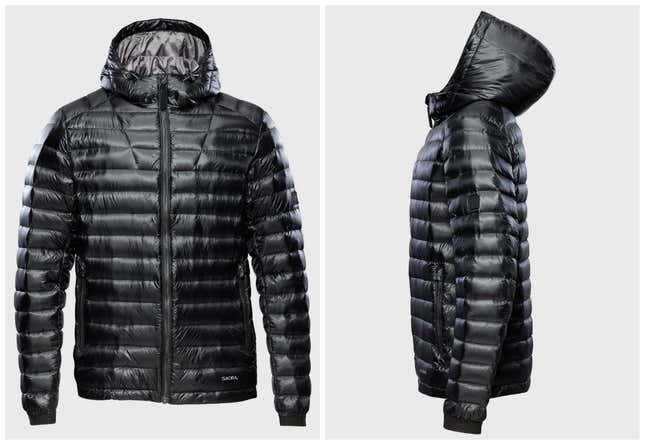 Isaora Microlight IR down jacket, $225
At first zip, this jacket feels far too lightweight for a winter day, but on a test run we found it to be astonishingly windproof and warm. Isaora co-founder Marc Daniels tells us that's at least in part due to Celliant, a "cocktail" of minerals ground up at the nano-level and applied to the RDS-certified down fill (pdf), to help the wearer maintain a more consistent body temperature. (No more sweating on the subway.) What's more, it's highly packable, stylish enough for the city, and toggles allow you to pull the hood taut around your face when the going gets tough.
Organic cotton pullover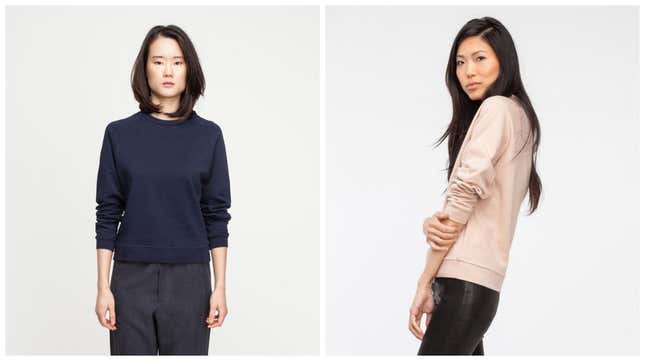 Base Range crewneck sweatshirt, $95
This Denmark and France-based brand cuts silk, linen, and organic cotton into simple tees, chemises, and sweats for women. More athluxury than athleisure, Base Range is "soft dressing" at its best. In subtle, non-toxically dyed shades such as navy and nude, the classic organic cotton crewneck sweatshirt is a particular favorite. Paired with pretty jewelry, this trim-cut pullover is sportier than a sweater, more sophisticated than a hoodie, and sure to become a staple.
The chambray upgrade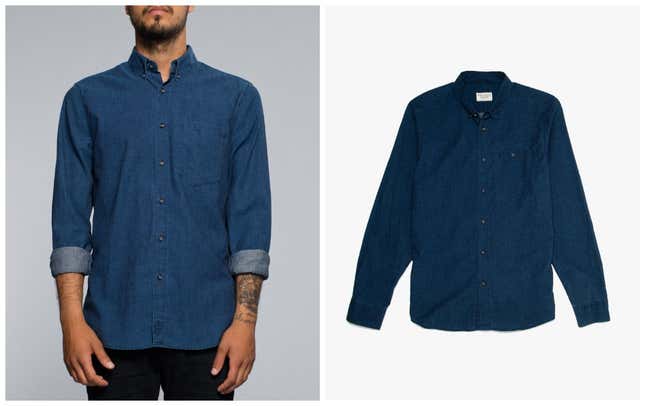 Nudie Jeans organic chambray button-down, $155
A faded chambray shirt has long been a spring and summer mainstay. This deeper blue organic cotton version from the Sweden-based denim brand Nudie can easily travel between seasons and time zones. The collar will look tidy peeking out of a sweater in colder climates, and the fabric is fine enough to act more like casual linen in tropical destinations. An asymmetrical breast pocket with an off-center button gives this handsome classic just a little edge.
 Alpaca wrapper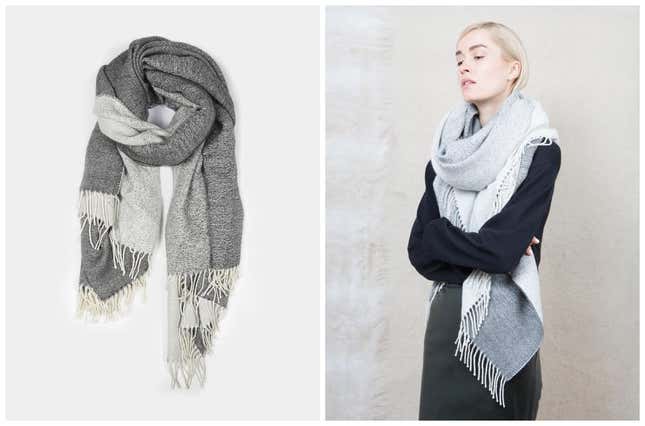 A Peace Treaty scarf, $358 
We have extolled the environmental virtues of alpaca fiber here at Quartz. Now here's a scarf—made of baby alpaca by indigenous weavers in the Peruvian Andes—that plays to the material's aesthetic strengths: beautiful natural colors, and a soft, lofty texture. It's big enough to serve as an elegant blanket in an icy airplane cabin or office, and adaptable for everyday winter use. If your loved one goes for color, try this version instead.
Swanky socks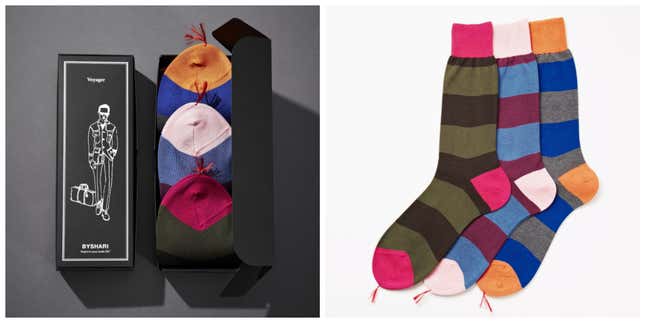 Byshari Voyager socks, $89.50 for three pairs
I know, I know: socks? The truth is, great socks get noticed, and many men won't splurge on high-quality, colorful underpinnings for themselves. In an age of kitschy brosiery, Shahriar Shahandeh, a veteran of Paul Stuart and the creator of socks Byshari, keeps things classy with a hint of humor. The block-striped socks are knit in Italy of 2-ply Egyptian cotton—a long-staple fiber, for a silky surface that won't pill—and each color-way is named for a neighborhood in Shahandeh's London hometown. A more conservative gentleman may appreciate quieter combinations such as these. For a festive feeling, get the Voyager: a 3-pack selected by Shahandeh "for the international globetrotter."
Fool-proof pouches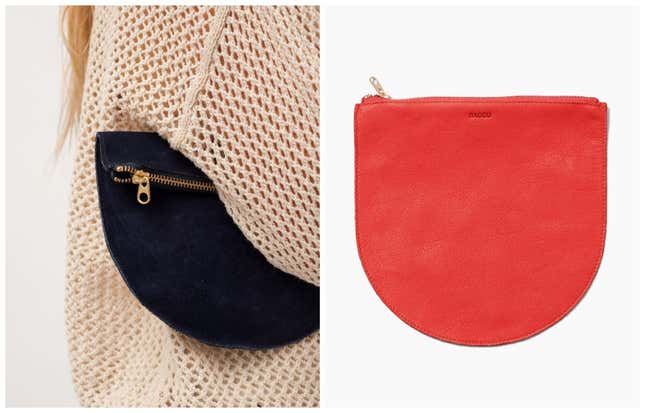 Baggu leather zip pouches, $20-$54
Buying a handbag (or man-bag) for someone else is bold. The item is intensely personal, and pricey at that. But pouches to organize the contents of one's bag are another story. In poppy, canary, and silver supple leather, these pack a punch and are incredibly useful. A small version is the keeper of my credit cards, and my grandmother—yes, my grandmother—won't go to dinner without her large one containing her cell phone and keys. (It doubles as a clutch.) They're small but mighty for the person that's hard to shop for, and you can always stick a surprise gift card inside. For organizing backpacks and gym bags, try the nylon options.
Insouciant pocket square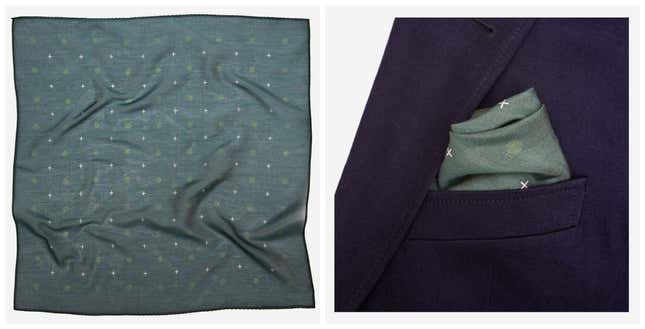 Vacation Days silk and cotton square, $28
While a traditional silk pocket square makes for a formal flourish with a wool suit, this silk and cotton version pairs equally well with casual, travel-friendly fabrics such as cotton twill and corduroy. Its Los Angeles-based designer, Hamish Robertson—so travel-inspired that he named his brand Vacation Days—says he is influenced by Savile Row tailoring and Nakameguro street style in equal measure. Plan on wearing this pocket square anywhere in between, and then some.
Travel-friendly necklace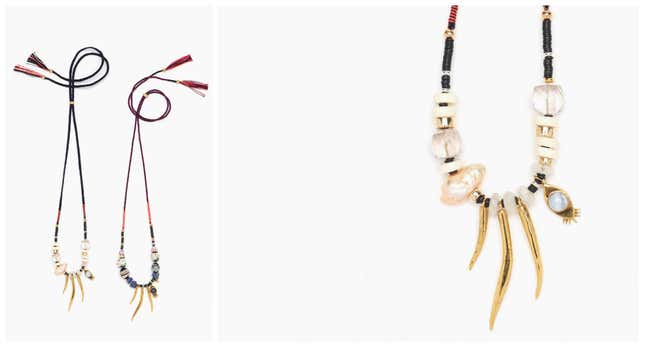 Lizzie Fortunato amulet necklace, $235
Bringing one's fanciest jewelry on the road is never advisable, but an impactful necklace can make all the difference when packing light. This one, made in New York by Lizzie Fortunato, gets extra mileage from its adjustable length; wear it shorter with a t-shirt or extra-long over a sweater or beneath a plunging neckline. Its hand-braided cord, quartz beads, and evil eye charm give it a bit of rough-hewn flair—perfect to layer with trinkets you pick up along your travels.
The Quartz holiday gift guide